Photo Gallery
Kayaking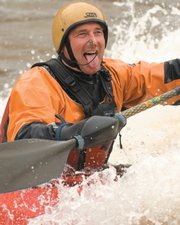 Steamboat Springs — Admit it - when snow rolls across the weather forecast, you groan, if only a little.
Yes, it's Steamboat. Yes, it's part of living in the mountains and, yes, you love it.
But it's May.
Then again, maybe you don't groan at snow forecasts. Maybe you're a kayaking maniac. In that case, you're still praying for snow like Shaun White in November. Steamboat's kayaking community didn't groan when snow again blanketed Routt County earlier this month - and as recently as Saturday's dusting.
A lick of the lips may have been more appropriate.
While many Steamboat residents are ready to hit the hiking trails and break out the cargo shorts, kayakers are gearing up for as stupendous a season on the water as their skiing brethren enjoyed on the mountain this winter.
For Barry Smith, the sound of snowflakes is like pennies falling into a ceramic pig. He is the owner of Mountain Sports Kayak School and a kayaking instructor at Colorado Mountain College. With the Steamboat Ski Area recording a record amount of snow through the winter, Smith said he knew he could be in for a record kayak season.
"I've never seen the snow stick around so long," Smith said. "It's like money in the bank, having all the snow up there. Every time it snows, that's the way I look at it. It's a reservoir of water that can come down. If it keeps snowing, it cools everything off and it all stays up there longer, so we'll have a longer season."
Kayaking nirvana isn't solely the product of a tremendous amount of snow, though by nearly every measure, the new season is looking to be a monster. Helping guarantee that is late snow coupled with the slow onset of spring. Although snow is almost completely melted at lower elevations, the high country has a long way to go, as Smith found out the hard way last week when a planned kayaking trip had a change of plans.
"I like to go up to the Elk (River), and I went up there last Sunday to go kayaking and called my friend, and he said there was still 4 feet of snow. It's unreal," he said. "We went skiing instead. The river was just a trickle."
By last year's standards, 2008 is unique for several reasons. Not only was 2007 a very low and slow year, the flow also came and went earlier than average. By any standards, though, this season should be unique. Boaters have been able to get on the water, though many popular creeks and runs aren't yet accessible.
"The river has been running pretty good for a couple of weeks, but Fish Creek is about a week or two behind schedule," said kayaking enthusiast Adam Mayo, who already has gotten out about 15 times. "It will take soon, and it will probably go two or three weeks later than it usually does."
The late flow also could affect the annual Yampa River Festival. Mayo, who is helping organize the event, said it was moved up from June to the end of this month to coincide with Memorial Day weekend. The hope was to avoid a year like last year, when the river already had peaked before the activities. This year, it may not have peaked yet.
"It could well be the river peaks in June this year," Mayo said. "Still, the River Fest will have plenty of water. In fact, I'm glad it's not going to be peaking during River Fest. It will be a great year due to the fact that we got so much snow and it came so late. The melt-off is probably going to be a lot higher than it has been in a long time."
But the pace of the season all depends on the weather. A hot stretch could melt things in a hurry, Smith said, while any more snow could prolong and intensify an already big season.
There's only one way to know, he said - keep an eye on the mountains.
"The way it's been - it gets warm then cools off, then gets warm and cools off. It's never really had a chance to get going," he said. "If it gets to 90 degrees for a week, we'll get some flooding, but if it stays the way it is, eventually it'll melt. When that is, who knows?"