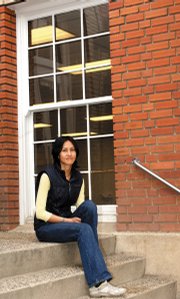 On the 'Net
A list of aid agencies accepting Myanmar cyclone relief donations can be found at www.interaction.o...
Steamboat Springs — A week after Cyclone Nargis struck her native Mynamar, Cho Tun Schram has no idea whether relatives including her father and grandmother are alive.
"I haven't been able to get through," Schram, a secretary at the Steamboat Springs School District office, said Friday. "For me to be able to get a hold of my family members is very slim. : I think it will be a little while before we can talk to anyone in the country."
More than 60,000 people are dead or missing in the Southeast Asia country, formerly Burma, The Associated Press reported Friday. Officials warned the death toll could exceed 100,000, according to the AP, and the United Nations estimates 1.5 million people are "severely affected."
Schram's father and grandmother live in Yangon, formerly the capital city Rangoon. The city, the country's largest, was squarely within the cyclone's path. One of Schram's sisters received an e-mail from a third cousin who said the storm leveled 90 percent of the trees and power lines it passed. Pictures attached to an e-mail from Schram's older sister in London reveal destroyed homes, people escaping the rain under a tarp shelter, bodies bobbing in murky floodwaters, two young girls in bright shirts lying lifeless on a bed of felled vegetation.
"People are suffering, and the government doesn't care," Schram's sister Moe Khine wrote.
In spite of it all, Schram spoke with composure from work Friday. Feeling helpless, Schram said it is better for her to work than stay at home, alone with her worry. Schram said she relentlessly trolls Web sites for news, little of which has been good. She expressed frustration with Myanmar's leaders for seizing foreign aid shipments and their unwillingness to allow U.S. and U.N. aid workers into the country.
"We are simply trying to help the government of Myanmar to carry out their responsibilities to aid these people in increasingly desperate need," John Holmes, the U.N.'s emergency relief coordinator, said in a statement Thursday.
The government says it is distributing aid shipments itself but will not let foreign workers into the country, but Schram said she suspects the supplies are only being given to friends of the military regime, rather than those who need it most. Schram also guessed the government's unwillingness to let Westerners into the country is due to the deplorable human-rights conditions there.
"They are afraid to be seen," she said.
Schram and many other members of her family left Myanmar in the 1990s due to the political situation. Schram moved to Steamboat in 2001 and used to live in Malaysia, where her mother and younger sister remain. Schram is the only Burmese person she knows of in Routt County. A family friend in Texas also has had no luck contacting anyone within the country. Schram normally speaks with her father every Monday.
Only prayers
From what she knows of Myanmar, Schram said it lacks even a warning system and other tools to confront the storm and its aftermath. She noted some Americans' outrage with the response to Hurricane Katrina, and said Myanmar will be much, much worse.
"How angry are we at the government for a few days?" Schram said. "For a Third-World country, I don't think we can cope. Because it's a Third-World country, it's not built to handle this kind of storm."
If there could be any benefit from the horror unfolding in her homeland, Schram said she hopes the attention will influence changes in the country.
"We need to educate the world who Burmese people are," she said. "I think there is very little we can do but to educate people in the world about how the country functions. : Unfortunately, it has to be this way."
Schram said her school district co-workers have shown her great support and kindness. Many have asked how they might help and where they can send donations. But the offers, though Schram appreciates them, only underscore her helplessness. For now, all she asks for are prayers.
"Even if we want to donate or anything, we can't because the money might not get to the right people," she said. "What can I say? I'm not going to take monetary help : because there's no guarantee it will get to the right people.
"I feel helpless. I feel that I can't do anything. All I do is be sad, and I cry. That's all. That's all."