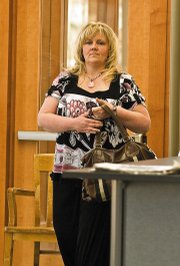 Man reaches settlement in stabbing
Christopher Allen Hamm, the man charged with the racially motivated stabbing of a black man at Sunpie's Bistro last summer, has reached a settlement with prosecutors.
Hamm was accused of stabbing Alfred Turner, a black man, in the thigh after telling him to "leave our white women alone" at the Yampa Street bar July 6.
On Monday, Hamm pleaded no contest to felony charges of second-degree assault and bias-motivated crime. He pleaded guilty to a misdemeanor charge of third-degree assault. In exchange, Hamm will serve a maximum of 90 days in jail, complete 68 hours of community service, donate $500 to Advocates Against Battering and Abuse, pay more than $1,400 in restitution plus lost wages as a truck driver to Turner, serve four years of supervised probation, not consume alcohol, and undergo alcohol and anger evaluations.
District Court Judge Shelley A. Hill scheduled sentencing for July 26.
Steamboat Springs — The attorney representing one of two Routt County women accused of embezzling more than $1.2 million from a local bank expects prosecutors to offer a plea agreement.
Steamboat Springs attorney Charles Feldmann said he hopes and expects such an offer to be made because of the cost and complexity of prosecuting a financial crimes case. Feldmann represents Pamela Jean Williams, who along with Terri Dawn Moody Fatka was arrested in February on suspicion of stealing more than $1.2 million from several Alpine Bank account holders. The women were Alpine Bank employees when the alleged crimes were committed.
The women, whose cases are being tried separately, have been charged with two felony counts of theft of more than $20,000, and two felony counts of forgery.
Williams and Fatka appeared in court Monday at the Routt County Justice Center, where their cases were continued until 4 p.m. June 10.
Erick Knaus, Fatka's attorney, requested the continuance so he could have more time to comb through discovery with an investigator. Feldmann plans to subpoena Alpine Bank records, a move the bank opposes.
Assistant District Attorney Kerry St. James did not oppose the lawyers' request for a continuance.
Feldmann discussed the possibility of a plea deal after Monday proceedings.
"We have not received any plea agreement from the DA's office at this point," Feldmann said. "This is clearly a case that would be negotiated by some sort of negotiated settlement."
"The cost to taxpayers (to prosecute the case) would be enormous."
St. James would not comment on the possibility of a plea agreement. Knaus said he knew nothing of the possibility.
Also Monday, District Court Judge Shelley A. Hill disclosed that she is a friend of Alpine Bank officer Alice Klauzer. Hill said she would recuse herself at the request of any party.
"You can just file a motion," Hill said, "and I'll be gone."
St. James said he would not request that Hill step down. The judge gave the defense attorneys 15 days to make such a request. Knaus said he does not expect to ask Hill to step down, either.
"I don't anticipate that, but I need to discuss it more with my client," Knaus said. "I have no doubt that the judge can be fair."
Feldmann said he needs to discuss the issue with Williams.
About 10 Alpine Bank officials attended Monday's court appearances for Williams and Fatka. After the proceedings, Regional President Glenn Davis said the bank has made only slight policy adjustments since the alleged thefts, which are suspected to have been accomplished through forged "advice of charge" forms, according to police arrest warrants.
"We made a few modifications to an existing policy," Davis said. "We're effectively satisfied with much of what we have. : But we're taking a look at how to keep collusion from being an issue again."