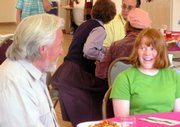 Pop culture icons like Elvis Presley and Marilyn Monroe transcend generations.
Other fads, such as saddle shoes, The Howdy Doody Show and The Platters were all new to a group of Steamboat Springs Middle School students researching American life in the 1940s and 1950s.
The students wanted to set a nostalgic tone at the luncheon and dance they hosted for local seniors last week at the Steamboat Springs Community Center. The 50 or so seniors who attended were greeted by festive streamers, a balloon arch, life-size cutouts of Elvis and Marilyn and a jiggy mix of classic tunes.
Attendees, some spry in their pearls or bolo ties, enjoyed a full spaghetti lunch and some welcome conversation with middle school students.
The event was well received by Keith and Shirley Zuehlke, who thanked the students and their mentors after lunch and a few spins on the dance floor.
"We like being around youth : but we especially like it when youth take time to do things like this," Keith Zuehlke said. "It's a special group of kids."
The group of 10 students organized the "Turn Back the Clock" event as part of Global Youth Service Day, which encourages young people to take part in community improvement projects.
Middle school students in Hayden and Oak Creek have projects planned this week that include crafts and beautification work at The Haven Assisted Living Center and yard work at the senior apartments in Oak Creek.
Greg Johnson and Risheen Maheswaran, school-based mentors through the Partners in Routt County program, came up with the idea for the senior lunch. They chose five students from the National Honor Society program and five other students at the school to help organize the project.
"We thought it was a great idea to get the kids involved with seniors in the community : they are a valuable source of information and can help the kids out," Johnson said.
The students eagerly jumped on board, seeking donations from local businesses, who contributed nearly all the food, from the cheese on the spaghetti to the pies for dessert. The project also had the help of a $500 grant from the Legacy Education Foundation and from Routt County Council on Aging staff, who helped in the kitchen and got the word out to seniors.
The "Turn Back the Clock" event, in addition to promoting youth service, also was an appropriate entry into Older Americans Month, an opportunity to pay tribute to the elders in our community.
Interacting with older adults helps young people develop social skills, positive attitudes toward aging and good self-esteem. Programs that integrate seniors with youth and other generations also help reduce feelings of isolation and loneliness among older adults, according to Generations United, an organization dedicated to intergenerational issues.
When the middle school students weren't serving food or helping clean up, they were chatting with seniors.
Eighth-grader Brittani Beckwith was among students who asked seniors about their favorite movies, TV shows and bands from their youth. She was surprised to learn some didn't have TVs when they were young and instead listened to the radio.
For other students, the research aspect of the project included an interesting history lesson into what life was like when their guests were teenagers themselves.
"It's weird to think it was during segregation and war and that all these people lived through that," said Shea O'Brien, an eighth-grader.
Still, the students decided that as teens, the seniors probably weren't that different from themselves.
"No, they just wore poodle skirts and listened to Elvis," O'Brien said.
There were a few differences, though. For example, courtships back then seem to have been a bit quicker.
Imogena Fitzgerald, 86, was just 19 when she married her husband after a whirlwind six-week romance. Her husband, a U.S. Air Force pilot, died 10 years ago.
"I had a wonderful marriage and a wonderful life," she said.
Editha Von Theumer, who celebrated her 85th birthday the day of the lunch, graduated from high school when she was just 14.
A former ballerina and ski instructor, Von Theumer was raised in Austria, where she attended school Monday through Saturday. There were no sports or other activities in school, just academics.
"Schools here have it so easy compared to in Austria," she said.
For more information on Older Americans Month, visit www.aoa.gov.
Tamera Manzanares can be reached at tammarie74@yahoo.com.