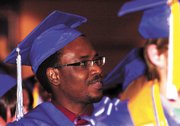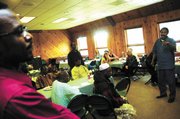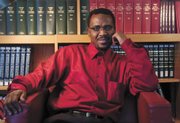 Steamboat Springs — Daouda Adama is proud of just one thing: The Senegalese flag will soon hang in the Colorado Mountain College library.
The 35-year-old West African man spoke humbly about graduating Saturday with his associate of the arts degree from CMC's Alpine Campus in Steamboat Springs. The Steamboat community lifted him to where he is, he said.
"I graduated because I came to the right town," he said. "This is the graduation of the group of people that helped me. It's not Daouda's graduation - it's Daouda's friends' graduation."
Last week, Adama spoke with joy of the people who helped him. He spoke with pain of the loss of his mother and father. He spoke with wisdom from his journey.
When Adama was 16, his parents were beaten to death before his eyes in Mauritania.
"When they died, the last words of my dad were, 'Take care of your brother and sister,'" he said. "When I remember that, I don't want to let them down."
Adama wishes his parents, victims of a 1989 civil war, could have seen him graduate. If they were alive, he said, he would tell them about all the people who helped him reach that moment.
Adama would like to tell his parents that those people were white.
"My parents died with the idea that they and white people couldn't like each other," he said. "I wish they were alive, and I'd explain to them that not all white people hate black people."
A winding road
In the nearly 20 years since that day in Mauritania, Adama has had a world of experiences. He and his younger siblings, brother Alassane and sister Aissata, went to Senegal as refugees. He now considers Senegal home. There, Adama met his wife, Yaye, whom he married in 1998.
He moved to the United States in 2001 and has been able to visit Senegal just once, in 2005.
He has never seen his 2-year-old son, Mamadou.
"Sometimes, I buy a phone card just to talk to him," said Adama, showing off the chubby young face that grins from his cell phone. But it won't be long. The United Methodist Church, which bought Adama his plane ticket in 2005, is buying him another ticket to go to Senegal for two and a half months this summer.
"We invite anyone who wants to make a contribution to help him get back, and people have been really generous and really happy to do so," said Tim Selby, pastoral associate at the church. "He has a lot of friends and a lot of respect in our community."
Adama was able to get land for a house in Senegal. His family, including his brother and sister, still live there. He can't wait to hug his son. Adama wants to share with Mamadou what he has learned about "the reality of this world."
When Adama got married, he left the refugee camp in Senegal to get a job in the capital, Dakar. He was shining shoes there when he met a man who wanted to help him. They got along in part because Adama was fluent in French from his childhood education. He also speaks Fulani and Wolof.
That man helped Adama save money to send back to his family at the camp. He offered to help Adama come to the U.S.
Adama had no chance to say goodbye to Yaye.
On to America
He wound up in Denver. After time in Silverthorne, Adama visited another African man in Steamboat. He loved the town. Since moving here in about 2002, Adama has had several jobs, including washing dishes at Johnny B. Good's Diner and cashiering at Wal-Mart. He's now a customer service manager at City Market.
Adama said he always has been passionate about education. At the refugee camp, he spent much of his time learning from others and reading.
The pattern continued in the United States. Adama started learning English from TV. His friends encouraged him to go to college, and he started taking English as a second language classes at CMC. He qualified for college and started on his degree.
"They always told me anything is possible," Adama said. Grants and scholarships have paid for his whole education, he said. People in the community have been generous.
"This degree is not for me, honestly," he said. "It's for the people of Steamboat."
Adama would love to continue his education in Colorado and wants to study business or accounting. He would like to bring his family - brother, sister, wife and son - back to Steamboat. Adama has his green card and is working to help his family make the move.
Adama doesn't even mind the huge climate change - though his family at first didn't believe the photos he sent were of snow.
"They thought it was sand," he said with a laugh.
Lessons learned
It's not easy to be apart from his wife, Adama said.
"But the life we were having before was harder," he said. "Living in a refugee camp, no land, losing everything you have, you have no parents. It's not easy."
He speaks to Yaye often, he said.
"That's what I tell my wife all the time: 'You know me. I know you.' People say it's hard to be five years away from your wife, but it's here," Adama said, pointing to his heart. "It's your heart. You make a commitment."
He said that distance had nothing to do with love.
"I haven't seen her in three years, and we're more in love than people who are closer," Adama said. "That's because we don't fight. We love with words."
Adama, who is Muslim, said his love and faith have helped him become who he is. His favorite book is Dale Carnegie's "How to Win Friends and Influence People." He shares it with others, he said, and finds friends wherever he goes.
"If you make friends, you have the world with you," Adama said. "You are safe."
Selby is a close friend.
"He's a great man that has overcome a lot of adversity and is doing everything he can to create a bright future and make friendships and connections along the way," Selby said of Adama.
When Adama returns from Senegal in August, he wants to serve the community that has served him so well.
"I really love them. I truly love these people," he said. "I don't know what I can do for them, but they did everything for me."