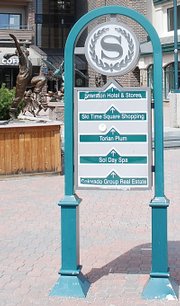 Fore!
When Rollingstone Ranch Golf Club reopens this spring, longtime members should achieve lower scores than they did at the former Sheraton Steamboat Golf Course.
That's because the Robert Trent Jones Jr. championship course will never offer more than 17 holes this summer as each of the 18 holes is taken out of play one at a time to be refurbished with new irrigation equipment.
Sheraton Steamboat Resort General Manager Chuck Porter said there's a perception in the community, probably due to the new change, that the Sheraton has sold the golf course. That's not the case.
Instead, he said, the new name of the course is meant to give it its own personality, one that also gives it brand recognition.
The name Rollingstone Ranch is a nod to the nearby Selbe family ranch and to a natural phenomenon that takes place early each summer where Fish Creek flows through the golf course.
The force of snowmelt coursing off the Continental Divide in June often causes small boulders to tumble in the bed of Fish Creek. There will be many rolling stones in the creek this season, Porter predicted.
- Tom Ross/staff
Steamboat Springs — The Sheraton Steamboat Resort is about a month away from unveiling the first of its 191 refurbished guest rooms, part of a $20 million renovation and redevelopment of Steamboat's ski-in, ski-out hotel.
Sheraton Steamboat General Manager Chuck Porter said the first two floors of renovated rooms will open June 6, with new floors opening every day or two until all of the rooms are open June 15.
Starwood Hotels and Resorts Worldwide paid Ski Time Square Enterprises a little less than $57 million for the property a year ago. At the same time it is being refurbished, portions of the property are being marketed by Starwood Vacation Ownership to buyers who acquire a week in a home resort, which
can be traded for vacations in other resort destinations.
The refurbishing will continue as the existing Morningside suites and East Tower hotel rooms are converted into 45 luxury two- and three-bedroom vacation ownership villas for Starwood Vacation Ownership. The first phase of Morningside is scheduled for completion by December, and the East Tower condominium conversions are expected to be complete in 2008.
When the guest rooms reopen next month, Porter predicts they will have a fresh residential feel.
In addition to new plush bedding, they'll feature oversized leather or velvety chairs and ottomans and freestanding wood vanities in the bathrooms. Each room will be outfitted with new flat-panel LCD TVs. The beds will be Sheraton Sweet Sleepers, with nine-layered decorator coverlets and pillow sets.
Porter said guests of the hotel who pay for a more expensive room, or Starwood preferred guests who have reached the platinum level, will have access to a new club lounge on the seventh floor. It will offer a large flat screen, residential furniture, breakfast and cocktail receptions.
"It will offer a higher level of amenities," he said.
When the Sheraton Resort Villas are complete, they will offer two- and three-bedroom floor plans with mountain views. Completely furnished, they will have two-sided gas fireplaces. Modern mahogany dining tables will seat eight. Each bedroom will have its own bath.
- To reach Tom Ross, call 871-4205
or e-mail tross@steamboatpilot.com