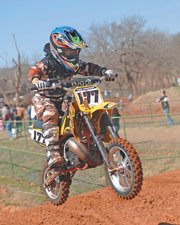 Steamboat Springs — Nine-year-old Noah Townsend of Hayden traveled to Nebraska this weekend with one purpose, but a dozen reasons.
The purpose was to improve as a motocross rider. Noah, riding since he was 6, dreams big in the sport and realizes that only practice will allow him to fulfill those dreams.
The reasons he was able to pack up and make the trip require far more explaining. They, at times, extend beyond Noah's understanding and often involve his dedicated parents, Colby and Michelle. But the reasons always relate back to that singular purpose: Noah Townsend wants to be a motocross rider.
Love of a new sport
Noah cut loose his old-fashioned bike's training wheels when he was 2 1/2 years old.
Soon, even that freedom proved too limited. Noah was ready to cast aside pedal power entirely when he first discovered dirt bikes.
"My dad, my mom and my sister - all horse riders," Noah said. "I went into my friend's garage and saw a dirt bike and asked what it was. He told me, and I was like, 'Sweet!'"
Colby Townsend, along with his wife, owns Elk River Farm and Feed in Steamboat Springs. The family owns horses and land near Hayden.
"I thought I had a little cowboy," Colby said of Noah's birth.
Instead, Colby and Michelle set their son up on a dirt bike for his sixth birthday in the spring of 2005.
"He eats, sleeps and breathes motocross," Colby said. "He reads magazines, watches videos and the races on TV. I was opposed to it, but he's been attracted to two wheels his whole life."
A natural
Noah found himself a natural on the dirt bike, tearing through the pastures and open ground near the Townsends' house.
Colby, who eventually bought a bike of his own in a vain attempt to tag along with Noah, also built a motocross course behind the house.
Noah got better and better. His love for the sport grew. He can recall even the smallest details of getting introduced on the same podium with many of his motocross heroes at a race last year in Anaheim, Calif.
"Right now, Noah's probably in the top 20 percent of riders his age," his father said. "The Cinderella story about this is we live in Steamboat. We're constantly looking for seat time. When we went to Texas in January, Noah hadn't been on a bike since September. He got 16th out of 42."
Now, Noah hopes to qualify through one of two regional races this summer for the motocross national championships in Hurricane Mills, Tenn.
The first such regional comes in Milford, Calif. Noah must finish in the top five if he's to advance. If he falters, he'll have another chance at a different regional qualifier in San Bernardino, Calif., later in the summer.
Racing hearts
With 40 or more racers on a given course, accidents and collisions are inevitable. The risks keep the Townsends' heartbeats raging during a race, the parents so worried for Noah's safety that they shoot jittery video and rarely are able to snap pictures.
But Colby is learning all he can about the sport his son loves.
"I own a feed store. I'm not a mechanic," Colby said. "I knew nothing two years ago. Now, I've had situations where I've rebuilt his clutch between races. It's been a tremendous learning curve for all of us.
"We have 13 sponsors, the biggest being Planet Powersports. Randy Osborn, who owns the motorcycle shop, has also been a big help for us."
Colby first sold his horse to finance a new batch of bikes for Noah, who has gone through nine different motorcycles while growing physically and in ability.
Colby traded the horse in for a second job, spending the past winter working the night shift at Alpine Taxi in Steamboat Springs in addition to his daytime duties at the store.
"I keep saying, 'I hope our money doesn't run out before his talent,'" Colby said with a laugh.
A united family
Is Colby Townsend crazy for letting his "little cowboy" ride increasingly powerful machines? Is he crazy for traveling cross country following the whims of a child, or for spending harsh winter nights driving the snow-packed streets of Steamboat?
Hardly, Colby insists.
"The whole family has been loving this," he said.
It's brought the best out of them, he explained, and this push - the nights in the taxi cab and the crazy summer ahead - is a part of a plan.
Noah turned 9 in April, and this is his last summer racing with a younger age group. If he's going to make it to nationals, he has a better chance now, before he has to bump up to bigger bikes and bigger competitors.
"A lot of people ask us why we do it," Colby said. "I wouldn't even call it an obsession for him. It's just his life. People don't understand what we'd be taking away from him if we took this away.
"We don't want him to be a superstar. We want him to be a good kid. He always has the option, we could stop racing tomorrow or we could just go ride trails. We want to be doing this as a family and enjoying it as such."
- To reach Joel Reichenberger, call 871-4253 or e-mail jreichenberger@steamboatpilot.com