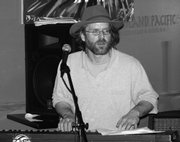 Past Event
Saturday, May 3, 2008, 10 p.m.
Mahogany Ridge Brewery & Grill, 435 Lincoln Ave., Steamboat Springs
Not available / $5
Steamboat Springs — After logging years with Leftover Salmon and The Derek Trucks Band, Colorado music mainstay, keyboardist and vocalist Bill McKay is getting to know himself. More specifically, he's getting back to playing music he's written, touring with the four-piece Bill McKay Band.
It's not too sharp a break from Trucks' jam and blues leanings or Leftover's frequent forays into bluegrass, but McKay's band does have a distinct feel that sets it apart from past gigs.
Joined by guitarist Adam Stern (Double Parked), bass player Stefan Ferraro (8traC) and drummer Chris Carland (Shanti Groove), McKay comes through Steamboat Springs on Saturday with a set at Mahogany Ridge Brewery and Grill. He spoke with 4 Points about rediscovering rock 'n' roll (which he never really lost), combining individual influences and keeping the audience interested.
4 POINTS: How will this show be different from what people might have heard when you were playing with The Derek Trucks Band or Leftover Salmon?
BILL MCKAY: We'll be focusing some more on some straight ahead rock 'n' roll and funk and blues, and doing some of my original tunes that have been sitting around and hadn't been played in a while.
Musically, it's rockin'. It's more rock 'n' roll than a bluegrass band, for example.
4 POINTS: Do you gravitate more toward rock 'n' roll than the jam or bluegrass stuff?
BM: I like all kinds of music. I never really was a bluegrass musician per se, so in one way, it's nice to be able to have my own band and be able to turn on a dime (to a different style of music).
4 POINTS: Are you glad to be back to performing your own songs, as opposed to playing other people's stuff?
BM: I love both. One great thing about Leftover was that we all played our own music. : This is nice in another way, in that it's more my focus. I'm responsible to make the audience laugh also, so I have to come up with more comedic interludes while the guitars tune up.
4 POINTS: With the members of your four-piece coming from bands such as Double Parked, 8traC and Shanti Groove, what does that add to the music?
BM: I think everybody brings different senses of where they come from. Adam (Stern) is a great rock 'n' roll guitar player, but he also has great country licks and jazz licks, as well. : Everybody can play in their different styles, but we always meet on common ground. So, it's sometimes rock and sometimes jazz and funk, all over the course of one night.