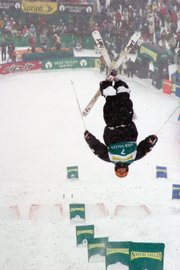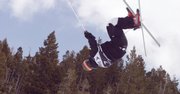 Park City, Utah — A pair of former Steamboat Springs Winter Sports Club skiers flew to new heights Saturday and Sunday at the U.S. Freestyle Championships at Deer Valley Resort in Park City, Utah.
Steamboat Springs skier Emiko Torito laid down a spectacular run to win gold Saturday in the moguls competition of the Sprint U.S. Freestyle Championships at Deer Valley Resort in Park City. Michael Morse, also a Steamboat resident, won the men's gold.
"Having two Steamboat club athletes win nationals was pretty spectacular," SSWSC freestyle director Erik Skinner said. "It was phenomenal. I was so psyched for (Morse), then with Emiko winning Saturday, that was pretty sweet."
Adding to an already successful season filled with four World Cup podium finishes, including a January victory in Lake Placid, N.Y., Torito owned the moguls course by completing a tight run with a 360 and a backflip.
"I am shaking. It's unreal," Torito said. "I know I had a successful year with World Cups and that was great, but there's just nothing like being able to say you're a national champion. It's really special."
Torito was especially pleased to be competing for her title at Deer Valley Resort.
"Deer Valley is my favorite course. It's so challenging, but you can also rip. I couldn't be happier to win here."
Eliza Outtrim also represented Steamboat in the top 10. Torito won the event with a score of 23.68, ahead of Shelly Robertson's 22.86. Outtrim was eighth with 21.30, ahead of Michelle Roark at 21.11.
Morse, who landed a backflip with an iron cross and a D-spin while listening to some tunes in his helmet, couldn't believe he won a national title.
"It hasn't really sunk in yet, but it's pretty amazing (to win the title). I had a tough year, and it feels good to lay down a run," Morse said. "I was pretty amped to go. The moguls were a little bit firmer than they were in the morning, but I just tried to keep it together and let it run through the bottom."
Morse finished with a score of 24.76, ahead of Park City's Nate Roberts, who had 24.69.
"He's really had to battle through some injuries the last couple of years. He did a really good job of managing that this year," Rawles said of Morse. "It was funny because we were all sitting around last night picking our dark horse and everyone picked Mike. It was great to see him put it together in a big event and lay down some great stuff."
Morse also won Sunday's dual moguls event, beating Cody Tempel of Missoula, Mont.
Morse rocked down Deer Valley's Champion trail with Metallica playing in his helmet to take the gold for his second win in 24 hours.
"I was a little tired after (Saturday) and wasn't sure how everything was going to go," Morse said. "It hasn't hit me yet (that I won), but it feels great to lay down some runs and do well in this competition. It's always nice to go out with a win and ski well."
Younger members also shine in spotlight
Skinner said the club also enjoyed plenty of success with athletes who didn't make the podium. The group took 10 competitors, the first trip to nationals for many.
Kara Johnson finished 11th in moguls and 18th in dual moguls.
"She's been sore and beat up all year," Skinner said. "She's been working really hard and training as much as her body will allow. For her to step it up on event day was pretty awesome."
Michael DeGrandis, skiing in his first nationals event, was 23rd in dual moguls and one of the most impressive Steamboat skiers of the weekend, Skinner said.
"He had an awesome week," Skinner said. "That's awesome to perform like that on that level."
He also said Luke Kamieniecki and Ryan Dyer laid down strong runs in moguls competition.
Jonas Seiler was 11th, Conor Garrecht-Connelly 17th, Michael Ricker 23rd and Ben Von Thaden 24th on Friday in the men's halfpipe competition.
Lauren Ladley was fifth, and Molly Leonard 11th in the women's competition.
"The kids just skied awesome. They were really on," coach Tony Lodico said. "Everyone that went down skied better than I've seen them ski this season. This weekend I saw some of the biggest jumps and hits I've seen.
"It was awesome to be a part of."