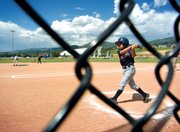 Steamboat Springs — Steamboat Springs and Routt County have been somewhat immune to the downturn in the overall national economy, but some government officials fear that could change when affluent ski season tourists are replaced by the Yampa Valley's working-class summer guests.
January sales tax figures for the city of Steamboat Springs were 5.67 percent higher than the year before, exceeding the 4 percent increase that the city's budget is built on. Routt County's sales tax revenues also were strong, but some believe those revenues could take a hit in coming months.
"That's a different tourist than we have in the summertime," County Manager Tom Sullivan said of winter visitors.
Deputy City Manager Wendy DuBord said the city saw a slight decline in tourism and recreation spending in the post-Sept. 11 economic downturn. County Commissioner Doug Monger described Routt County's summer tourists as "bubble people," those who might be debating whether to pull the trigger on a vacation due to the state of the national economy. Monger said gas prices and other factors are effectively doubling the cost of some people's vacations.
"We will be watching things closely," Monger said. "We will see it quickly in Triple Crown activity."
Monger was referring to Triple Crown Sports, the sports tournament company that hosts baseball and softball tournaments in Routt County for several weeks during the summer and is a primary driver of the local summer economy.
Triple Crown officials, however, are forecasting a record turnout for their tournaments this year.
"The way things are looking so far, we're significantly ahead of pace over last year," said Matt Van Alsburg, World Series director for Triple Crown. "Our numbers across the country are up."
Van Alsburg said his assessment is based on factors including the registration of teams. At this time last year, he said only 10 teams had paid to participate in Steamboat's summer tournaments. On Friday, he said 75 teams have paid. He predicted a total of 390 teams would travel to Steamboat this summer, 40 more than ever before.
But even if people make the trip to Steamboat this summer, that doesn't necessarily mean they'll spend a lot of money once they get here.
Eric Escudero, spokesman for AAA Colorado, said factors such as gas prices usually don't reduce travel but do lead to travelers compensating for increased costs in other ways, such as staying at less expensive hotels and eating in.
"They'll still travel," Escudero said. "They'll just make up for these extra costs. We have not seen, so far at least, any decrease in travel. But that could change."
Escudero's assessment is supported by recently released data. According to Merrill Lynch, 36 percent of consumers' disposable income went toward energy, food and medical care by the end of 2007, a greater amount than at any time since records were first kept in 1960. Eating at home increased for the first time since 2001, according to the government, and 54 percent of restaurants reported declining traffic in January, the National Restaurant Association says.
Other factors
Routt County Finance Director Dan Strnad said the county would see the biggest financial hit from a declining economy in its interest income from investments. Strnad said the county anticipated a 4.75 percent rate on its portfolio but now is looking at 3.6 percent, a 24 percent decrease that could mean a potential loss of $450,000.
"My biggest known commodity is interest revenue," Strnad said. "We're going to feel that."
Bob Litzau, assistant finance director for the city of Steamboat Springs, agreed. He said the city's portfolio has an average life of three years. As its investments mature, the city will be forced to re-invest in lower yielding investments due to repeated interest rate cuts by the Federal Reserve.
COLOTRUST, an investment vehicle for Colorado governments, has seen the daily interest rate on its COLOTRUST PRIME fund fall from 3.12 percent on March 1 to 2.26 percent on Thursday.
Strnad said any losses in sales tax and interest income may be mitigated by persistent growth and real estate activity. He said Routt County has seen double-digit percentage growth in both building and housing permits.
"We're still having a lot of sales," Strnad said.
DuBord and Litzau said the city's conservative budget policies better prepare it for unfavorable economic conditions.
"We do budget pretty conservatively," Litzau said. "We work hard to live within our means."
All officials noted that there is a certain amount of a crystal-ball factor when it comes to evaluating current economic conditions and preparing for the future.
"This whole subprime mortgage thing - it's huge," said Strnad, referring to the subprime mortgage fallout many believe to have triggered the downturn. "Something's happening here. We'll see. It's hard to tell."