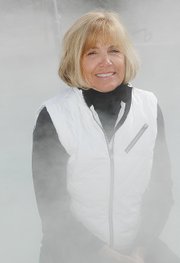 Simonne Oliver laughs when a visitor compares her to a local bartender.
Oliver has been working at Old Town Hot Springs for 10 years, and has been helping locals stay healthy for even longer. It's a great job for a number of reasons, she said, not the least of which is that, like the traditional barkeep, she meets nearly everyone in town and is able to soak in their stories.
"You meet people and you become amazed at their backgrounds," said Oliver, who holds the title of fitness director at the hot springs. "In a normal situation, you wouldn't get to know those people or where they came from, but Steamboat brings that out in people. I've had people tell me all kinds of things."
At so many points, Oliver's path to and through Steamboat is a well-rehearsed story. She first came to vacation and visit friends, and she never left. Active her whole life, she took to the endless outdoors opportunities. Ask her to pick a favorite among hiking, snowshoeing and skiing, and it might as well be a scene from "Sophie's Choice."
She relishes in the outdoors proficiency of her clients as well. Like much else, being a fitness trainer in Steamboat is just different.
"We have a very healthy community," Oliver said. "When I go to conferences, I realize this is such a unique environment. These people are outside a lot and moving a lot.
"I feel very fortunate that I'm able to work in this environment with such a healthy group of people."