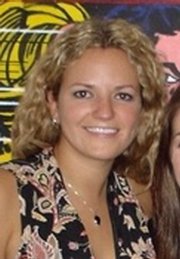 Steamboat Springs — Sara Ferris
Age: 28
Occupation: Promotions and event coordinator for Steamboat Ski and Resort Corp.
Place of birth: Steamboat Springs
Q. When did you move to Routt County and what brought you here?
A. I was born here, but moved away when I was five. The curse of the Yampa Valley brought me back three years ago.
Q. What's the biggest risk you've taken recently?
A. Dodging spring breakers on the slopes. I nearly got taken out by an 8-year-old who had no idea how to stop!
Q. Describe your morning routine.
A. I am not a morning person. I typically roll out of bed five minutes before I need to be somewhere, throw some clothes on, brush my teeth and dash out.
Q. Has a book ever changed your life? What was it and why?
A. "The Tao of Pooh." I was given this book after my friend Tom was killed in an avalanche and it influenced me to look at life in a more positive light.
Q. What's the best piece of advice you've ever been given?
A. "Twenty years from now, you will be more disappointed by the things you didn't do than by the things you did. So throw off the bowlines. Sail away from the safe harbor. Catch the trade winds in your sails. Explore. Dream. Discover." From Mark Twain, via my dad.
Q. What three things would you want people to know about you?
A. I have traveled around the world on a boat, I have an amazing family, and I can touch my tongue to my nose.
Q. What did you want to be when you grew up?
A. An orthopedic surgeon, just like my dad.
Q. If you could invite any four people to dinner, who would they be and what would you talk about?
A. Gandhi, Benjamin Franklin, Madonna and Jon Stewart. Can you imagine all the conversations that we could have?
Q. Do you collect anything?
A. Seashells - I have hundreds from all around the globe
Q. In the Meatloaf song, "I'll do anything for love, but I won't do that," what is that?
A. Compromise my integrity.
Q. What was your first job?
A. I bussed tables at the Blue Plate Kitchen in Boulder.
Q. Who is your favorite superhero? Why?
A. Wonder Woman, need I say why?
Q. Do you have a tattoo? If so, what of and why did you chose it?
A. Nope.
Q. Do you have any phobias?
A. I have a fear of heights, but my sister still managed to talk me into skydiving.
Q. If you could go back in time, to what event or time period would you go?
A. I would go back in time to my childhood to the days of recess and no worries, where my biggest daily concern was what game my imagination could conjure that day.
Q. What is your favorite thing to do in Routt County?
A. Skiing and tubing the Yampa.
Favorites
Book: "Atlas Shrugged," "The Beach," or "Dharma Bums"
Song: "So True" by The Black Seeds, or anything by The Rolling Stones
Color: blue
Food: cheese
Sport to watch: beach volleyball
Vacation spot: New Zealand
Recreational activity: Sailing, volleyball, skiing, camping, anything outside
Movie: "Playing by Heart"
Magazine: National Geographic Adventure Magazine