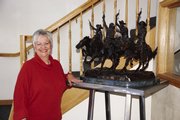 Ronna Autrey surrounds herself with the joys of growing flowers and raising remarkably intelligent and loyal German wirehaired pointers at her rural home on Deep Creek. And she enjoys an active career as a Realtor with Colorado Group Realty.
But her passion and determination come out most noticeably in her suicide prevention work.
"I'm extremely driven by it," she said.
After losing an adult son to suicide six years ago, Autrey devotes many evenings counseling not only fellow suicide survivors, but at risk people who show signs of depression or bipolar disorder.
Most recently, Autrey and another Routt County resident became trained to respond to the scenes of suicides to engage family and friends in the first minutes and hours after they have learned of their loss.
Ronna grew up in Lancaster County, Pa., where she and her husband, Mike, owned a real estate company and enjoyed a rural lifestyle.
"We always had animals and wanted that kind of life," Ronna said.
Mike breeds rare grulla quarterhorses on their 42 acres. The horses are prized for good temperaments and a luminous gray color. He also raises quail to help train the wirehairs to become good bird hunters.
"Wirehairs are a funny dog. They have a sense of humor," Autrey said. "They just make you laugh all the time with their antics. These dogs make as good a house dog as you could ever want, but that doesn't ruin them for hunting."
Working with animals balances out the intensity of Autrey's volunteer work. After dealing with her emotions and grief following the death of her son, she became a firm believer in the need for suicide support groups. She realized that survivors need more listeners than just friends and family.
"Survivors tend to want and need to tell their stories over and over," Autrey said. "There comes a time when you realize, 'My friends and family don't want to hear it anymore.'"
It would be wrong to conclude that Autrey is obsessed with her community support work. Just lately, she's been a little preoccupied with ice fishing on Steamboat Lake.
"I love to trout fish all year long, and I just caught Walter in the bay over by the marina. He was the biggest fish I ever pulled out of that lake."
Ronna Autrey is masterful at keeping things in perspective.