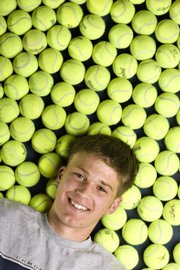 The last time Steamboat Springs High School senior Ramsey Bernard received a 'B' in school, sports were the main culprit.
It was Bernard's freshman year at Lowell Whiteman School, and his geometry grade suffered because he was gone from school so much for skiing.
But it's also fitting that sports are part of the reason Bernard - who transferred to Steamboat Springs High School midway through his junior year - is the success he is today.
Bernard credits a lot of what he learned on the tennis court to his success in the classroom.
Mainly, he said, failure is not the end result, but rather just another starting point.
Bernard, who won a state tennis title at No. 3 singles as a freshman, finished runner-up his junior year. Knowing he'd move up to No. 1 singles his senior year, Bernard went to work.
"You can look at it and let it hinder your performance and confidence, or you can look at it as a motivator," Bernard said of his state championship loss his junior year. "I didn't really know a lot about the other players this year, but I really pushed myself. I knew I would have a chance."
Bernard defeated Cheyenne Mountain's Justin Hermes in the championship match at No. 1 singles, 6-0 and 6-2. The win made Bernard the first Steamboat Springs tennis player to win a title in the No. 1 slot.
"He was kind of like a quiet-type leader," Steamboat tennis coach John Aragon said. "I think from regionals through that state tournament, he was the most impressive player. I know a lot of our young athletes were watching and were impressed how he won each point."
Although Bernard was impressive on the court, he might be more impressive in the classroom. The senior holds a 4.2 weighted grade point average and has taken Advanced Placement classes in U.S. history, Spanish, English and calculus.
Bernard will attend and play tennis at Pomona College in California this fall. While he's not exactly sure what he will study, he said he's leaning toward a major in English.
"I was looking for academics when I chose a school," he said. "But I found a place where I like the athletics and the academics. It's a really good mix."