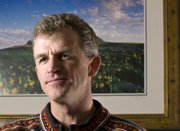 PJ Wharton doesn't take himself too seriously.
"I'm a banker; it's my job to be boring," said Wharton, whose office is equipped with a gumball machine and toys for the children who accompany their parents to the bank. "This is almost as bad as going to the dentist's office. When the kids are in here, it's not a good time for them."
Whether aimed at his career as a banker or his hobby as a youth hockey coach and player ("I'm short on skating skills, long on encouragement"), Wharton's self-deprecating humor is an endearing quality.
Wharton is the senior lender at First National Bank of Steamboat Springs, where bank President John Kerst said that a pretty admirable guy lies beneath the jokes.
"He's a good banker and also a family man and very involved in the community," Kerst said.
Wharton's community involvement includes serving on the boards of the Steamboat Springs Rotary Club and the Young Life youth ministry committee. He is also a former member of Mainstreet Steamboat Springs' board of directors.
It's easy for Wharton to be passionate about Steamboat, to which he moved in 2004. The Pennsylvania native moved to Colorado in 1989 and always had his eye on the Yampa Valley.
"Coming to Steamboat was somewhat of a dream come true for me," Wharton said. "People truly care and help each other whether you've been here all your life or four months."
Wharton and his wife, Amy, have three sons, collectively known as P, B and J (Peter, 8, Ben, 12, and John, 13). While some fret about all the changes Steamboat is experiencing, Wharton said he is excited about the future.
"I think people are passionate enough about it," Wharton said. "Nobody wants to lose what we moved here for."