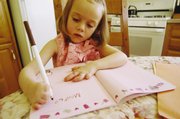 Ask Molly Look what she wants to do when she grows up, and she quickly answers: "Play."
With the 4-year-old's strength, determination and love for life, she is likely to succeed in whatever she chooses to do, whether it be playing or becoming a doctor.
"She's one of the most compassionate, sweet and sensitive people," said Yvette Look, Molly's mother. "A lot of times, she will think of other people before herself."
Yvette calls Molly a walking miracle.
"People that say they don't believe in God and don't believe in miracles, she is living proof," Yvette said.
It has been a little more than a year since Molly's adventurous personality led her to the brink of death.
On the morning of Jan. 17, 2007, Molly, who was 3, ventured out to the family's barn to see her bunny, Boy. She then decided to walk to grandma's house, when outside temperatures measured -27 degrees.
Molly had walked about half a mile and was found sitting in a snowbank wearing only a thermal shirt by passing motorist Kathleen Fitzsimmons, who then rushed Molly to the hospital. She was hypothermic and had severe frostbite.
When the Look family learned Molly was going to live, the concerns focused elsewhere.
"We were afraid we were going to lose who she was, but she's exactly who she is," Yvette said. "We didn't lose any of that, which we're really thankful for."
Molly lost several fingers and toes as a result of the exposure to the frigid weather.
Benefits were held in her honor, and the Look family received cards from people around the globe.
"I'm going to need about 50 scrapbooks to put these in so she can see how many people loved her and our family," Yvette said. "It's so hard to let people know how appreciative we are, because a simple thank you isn't enough."
Today, Molly is still doing the things she loves, with the occasional help from mom and dad, Del Look.
"She loves ballet, she loves music," Yvette said. "She sings all the time."