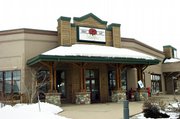 Steamboat Springs — Rex Brice is coming to the west end of Steamboat Springs, and he's bringing burgers with him.
The owner of Mazzola's Italian Restaurant and Rex's American Grill & Bar will take over the spot now occupied by Lucile's in Elk River Crossing. He plans to remodel and turn the Cajun-style restaurant into a laid-back establishment focusing on hamburgers.
"I think the west end of town is in need of a casual-themed restaurant that serves lunch and dinner," Brice said. "With the growth that's going on out there, I just think there's an opportunity for a restaurant to succeed - if it's the right restaurant."
Lucile's was scheduled to open for the last time at 8 a.m. today, but plans may have changed after press time. Brice plans to start remodeling this week and said the new restaurant should open in June. He hasn't picked a name for it yet.
Mary Wolf, who came from the Fort Collins Lucile's to run operations here, said the location in Steamboat wasn't right for the restaurant.
"It's not a good place for this end of town," Wolf said, adding that a restaurant that serves dinner should do better. Lucile's is open for only breakfast and lunch.
"Our hours didn't meet the needs of the community," Wolf said.
Lucile's has been in the spot since 2002. Wolf said she joined the crew in fall 2006 to help restructure the restaurant. Owner Dave Papini lives outside of Colorado part of the time, Wolf said, adding that having an off-site owner makes running a restaurant more challenging.
Wolf said she was told to get the restaurant to a place where it was sellable.
"That's exactly what I did," she said.
Papini, who owns the shopping center and the restaurant, is leasing the site to Brice. He said they had been working on the deal for the past three or four months. Lucile's wasn't the right fit for the area, Papini said.
"I don't know if the demographics were quite ready for an all-Cajun restaurant : but I think the food was good," Papini said. "I think it got off on the wrong foot when it opened up."
He said part of the problem was that Lucile's never became an "in" place to eat breakfast.
In addition to the Steamboat and Fort Collins locations, there are Lucile's restaurants in Boulder, Denver and Longmont.
Wolf said she isn't bitter about Lucile's closing and thinks Brice has the right idea for the spot.
"I'm happy with Rex's concept," she said. "It's good for the community, for myself, for the owner and for Lucile's."
Word of mouth
Brice said the new restaurant would aim to serve mostly locals rather than tourists. He said he's shooting for a check average of less than $15, which he said is tough to find at dinner restaurants in Steamboat. He said burgers would start at $5 to $6.
In addition to burgers, the restaurant will offer other sandwiches on buns, soups and salads, Brice said. Milkshakes and onion rings also will be on the menu.
"I've told some people that the restaurant will be sort of a casual version of Rex's," he said. "I think what's going to be important is the price point, the speed of service and the convenience."
One concern, however, is the tricky location. Lucile's is tucked near the Kum & Go off U.S. Highway 40 and is difficult to see from the main road, particularly when snow is piled high. Brice said he thinks residents will get there with no problem.
"Once they find us, word will get out, and people will make their way over there," he said. "Most people coming to us will know what we're doing."
Brice's upgrades to the restaurant will include fixing up the inside and adding TVs, he said. It won't quite be a sports bar, he said, but visitors will be able to grab a beer and watch the game.
Wolf, Brice and Papini said they think growth on the western side of Steamboat will benefit the incoming restaurant. Wolf and Papini cited Brice's success with Rex's and Mazzola's as reasons for their confidence in his new venture.
"I think it's going to be dynamite," Papini said. "It's a wonderful location there. I refer to that part of town at this point as the blue-collar section, and his concept should be perfect for it. Lots of people out there need places to eat and don't want to have to drive downtown or to the other side of town."