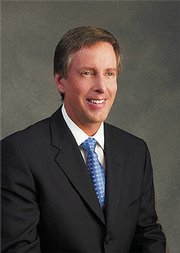 Steamboat Springs — Steamboat Springs resident Alan Krause has been named the president and chief operating officer of a $1.7 billion engineering firm, MWH Global.
He will oversee 1,700 employees as he supervises the operations of the company and helps guide its strategic moves.
"I'm personally excited," Krause said. "I waver between excitement and being utterly terrified. I think maybe that's the best disposition to have - you don't want to be too comfortable."
Krause was previously president of natural resources, industry and infrastructure services for MWH.
The company provides management, consulting and construction services to clients in the Americas, Europe, Middle East, India and Asia and on the Pacific Rim. The work varies from mine cleanup to designing athletic stadiums, but Krause said much of the firm's current direction and energy is devoted to water-related projects. They include hydroelectric dams and power plants, wastewater treatment and domestic water supplies.
Mayor Ray Nagin of New Orleans, La., announced in January an agreement with MWH to manage and expedite the repair and reconstruction of police and fire stations, streets, recreation centers, court buildings, museums, libraries and parks.
"With the election of Alan to president and COO, we have strengthened our executive management team and better positioned the firm to make the most of the opportunities that lie ahead," MWH CEO Bob Uhler said in a prepared statement.
Uhler was the firm's previous president and will continue to oversee MWH's strategic direction as its new chief executive. MWH is a private, employee-owned firm with offices in 35 countries.
In his new role with MWH, Krause said he would be responsible for ensuring the company's operations all across the world run profitably.
"We'll continue to focus on the energy markets," he said. "We're seeing a complete upsurge of interest in hydropower. It's getting incredible attention abroad."
Across the globe
Krause came here more than 15 years ago to assume leadership of a much smaller engineering firm, ACZ. The company changed its name to TerraMatrix in 1993 and was subsequently merged with Montgomery Watson and, finally, Montgomery Watson merged with Harza Engineering Company - thus the name MWH. Krause, while remaining in Steamboat, took on increasingly bigger roles and more responsibility with the engineering giant that had acquired his little company. Krause relocated his office to Chicago to help integrate his original company's expertise in natural resources engineering into MWH. However, even as his career demanded increasing international travel, he maintained his family's home in Steamboat. His latest promotion means, along with its many responsibilities, that Krause can come back to Colorado and locate his office in the company's Broomfield headquarters.
MWH continues to maintain a small office in the Pine Grove Center in Steamboat Springs, where there are about 20 employees. John Pellicer, manager of the Steamboat office, said all of his team's work is outside the state of Colorado.
"We've got people in the field in Peru, and we're working on a large copper mine reclamation project in New Mexico," Pellicer said.
The Steamboat office also is involved with copper and gold mines in Indonesia and an iron ore project in Australia.
Internationally, MWH has worked on the Guri, Macagua and Caruachi hydroelectric projects in Venezuela, the San Roque multipurpose dam in the Philippines and the Arrow Lakes Generating Station on a pre-existing dam near Castlegar, British Columbia.
Near Pirdop, Bulgaria, MWH was the design-build contractor helping with an environmental cleanup effort that involved closing a large copper-arsenic sludge pond that resulted from a pre-existing copper smelter.
In New Zealand, MWH played a key role in the conceptual design for the redevelopment of the old wooden timber Homestead rugby stadium into a modern multi-sport facility.