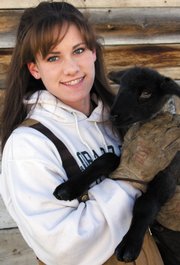 Kimberly Rossi could never - and would never - live in a city. She's too connected to the life of her family's ranch south of Phippsburg.
In the early spring, just before the calving season, Rossi helps march her family's heifers from one end of the property to the other. On horseback, Rossi moves cars past the line of cattle slowly working up the northbound lane of Colorado Highway 131. But what worries Rossi is how this scene - one that once defined life in Routt County - is beginning to stick out more and more as the exception and not the rule.
"You drive to Steamboat and all you get is big houses. There's just not as many people out haying or with cattle operations going," Rossi said. "It's hard to picture a future without ag(riculture) - we feed the world, from the meat people put on their tables to the fiber we get from sheep.
"Everything has to do with ag."
For nearly 10 years, the 17-year-old high school junior has had everything to do with Routt County 4-H and the FFA (founded as Future Farmers of America) program at Soroco High School in Oak Creek.
Byron Dean, the high school's FFA advisor, has taught agricultural science students for 28 years and says with confidence that Rossi "is definitely one of the best."
Now Rossi is ready to leap from leading as an officer at the 4-H county level and FFA district level to a spot on the state 4-H officer team.
When it comes to her goals, from the prestigious American FFA Degree to a career as a veterinarian, Rossi draws on lessons learned during lambing season.
"To keep them alive and fed gives you the feeling you can accomplish something like that," said Rossi, used to waking in the dead of winter nights to check her lamb flock. "It's taught me a lot of responsibility, that I can take whatever life throws at me."