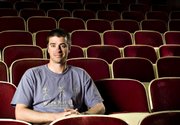 By the beginning of this summer, Kelly Anzalone's first Steamboat Springs performance venue will be gone.
If not a pile of debris, the Ski Time Square building that houses his Steamboat Mountain Theater will be empty, and Anzalone will be on his way to starting a new space - one with more uses, more room and more potential.
A Steamboat Springs resident since 1995, he has owned the base area venue for the past three years. Anzalone admits he found his way to the front of the Steamboat arts community by accident.
For the most part, he was tired of not having a suitable space to perform with his juggling troupe, We're Not Clowns.
"It was always a struggle to do theater in this town. I guess that was kind of my motivation to start my own theater. Even if I still had my venue and it wasn't going away, I'd still be wanting to build my own venue," he said.
Anzalone now sits on the board for the Steamboat Springs Arts Council - it's a far cry from the nature program that brought him here almost 15 years ago, an effort that followed part of the Lewis and Clark Trail.
"For the first five years, I did what everyone does and had five jobs, basically trying to do anything I could to get a free ski pass," Anzalone said.
"We're Not Clowns was born out of the Lewis and Clark thing. We'd juggle and the kids would naturally think we were clowns, and we'd say, 'We're not clowns,'" he said.
Even as he works to establish a home for theater and the performing arts in Steamboat Springs, Anzalone said his initial reason for coming here - the land - is the reason he has stayed.
"I just love Steamboat because of the environment, I think, more than anything."