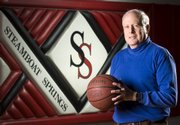 Jim Bronner has a doctorate in relationships and sports.
He's had to.
As one of the top agents in professional sports, Bronner dealt with some of the biggest names in baseball. Now, eight years after selling the sports agency he helped create in 1976, Bronner is using his knowledge of relationships and sports to help with a different generation.
Bronner has helped coach the Steamboat Springs High School girls and boys basketball teams for the past seven years. He spent the 2001-02 season helping former girls coach Bruce Alston, and the past six years helping boys coach Kelly Meek.
"He's phenomenal for our kids," Meek said. "He's an absolute wonderful human being."
Bronner first came to Steamboat in 1970. He and his wife, Barbara, arrived during a thunderstorm and immediately started looking for real estate. In 1973, the couple bought their first place in Ski Time Square.
"I always felt comfortable here because it's a real town," Bronner said.
Now Bronner splits his time between Chicago and Steamboat. He helps organize an annual celebrity golf tournament at Catamount Ranch and Club to benefit the Steamboat Springs Booster Club. He's also the chairman of the grant committee for the Yampa Valley Community Foundation and on the board at Strings in the Mountains.
Still, Bronner's main focus while he's in Steamboat remains the high school basketball team.
"I've been involved in sports all my life," Bronner said. "I enjoy the competition. I enjoy the camaraderie of sports. I tend to like people involved in sports."
Meek said Bronner's commitment to the program and the deep-rooted relationships he forms with all the players have made him an invaluable asset.
"In the 46 years of being a head coach, this is as good a choice as I got myself involved in," Meek said. "He's as good a person as I've ever gotten involved with. We've just been blessed. That's the biggest statement. All the players, all the coaches, all of those involved - they all love coach Bronner."