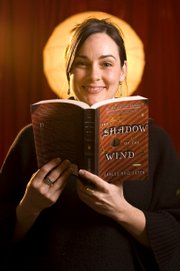 There are so many books to be read, Epilogue Book Co. owner Erica Fogue said, sitting in the tiny office above her Lincoln Avenue storefront.
"And they really need to be read by me," she continued, quickly noting that her comment should not be taken seriously.
Getting ready to celebrate her fifth anniversary as an independent bookstore owner, Fogue said there are so many things going on with the store that it can be hard to find time to sit down and catch up on the latest books.
To keep up with a store that focuses on customer service and providing personalized recommendations, Fogue said taking a few hours a day to read is one of her most important jobs.
"I have to really focus on finding time to read, and I have to read for my job. But there are so many other things going on that it feels guilty to take time to do that," she said.
Starting with a business plan for an old-timey, used bookstore, Epilogue has evolved to include mostly new inventory, a children's nook, a small coffee bar and a number of touring authors series.
But Fogue's focus has remained on giving her best attention to each customer and always being ready to offer an honest opinion on her clientele's books of choice - even if it's not a favorable one. The key, she said, is to have a suitable backup.
"That's another cool thing about the evolution of me as a bookseller," Fogue said. "A lot of booksellers are kind of snobs - not all booksellers, but a lot of them. They like what they like.
"I like knowing about all the different genres, even if I don't like them. I like to fit the book with the person."