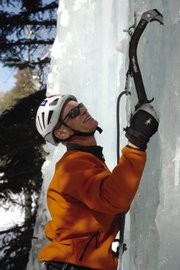 Constantly in search of new challenges, two summers ago Dr. Dan Smilkstein found himself climbing a 19,785-foot mountain in the Peruvian Andes.
Smilkstein's climbing partner had canceled at the last minute, and despite the 50,000 feet of treacherous terrain that lie ahead, he decided to solo climb the four mountains.
Near the summit of Tocllaraju, Smilkstein realized any mistake at 19,600 feet would have deadly consequences.
"That was probably the most focused moment of my life," Smilkstein said,
Fellow Steamboat climber and friend Matt Tredway has attempted to climb Mount Everest and can relate to what Smilkstein experienced.
"It's the equivalent of climbing the hardest ice you can have with a plastic bag over your head," said Tredway, who described Smilkstein as the toughest guy he knows. "He's really one of a kind."
Aside from climbing, Smilkstein stays active by skate skiing, biking, hiking and trekking throughout the world with his wife, Maureen. He has four grown children and said being active outdoors is an integral part of his mental, physical and spiritual health.
Smilkstein always has had a passion for the outdoors.
He was raised in California and attended Colorado State University to study forestry engineering.
It took one year in college for him to figure out that he liked the sciences and people. He wanted to become a doctor.
He bought a medical practice in Steamboat in 1984 and has been practicing family medicine with Steamboat Medical Group since 1989. And no, Smilkstein doesn't mind being asked medical questions while grocery shopping.
Tredway described Smilkstein as multifaceted and community oriented.
He is heavily involved with the Steamboat Springs Nordic Council and is an advocate for a world-class Nordic facility to be built at Howelsen Hill.
Smilkstein also is the race director and founder of the annual Coureur des Bois cross-country race in North Routt County.
"He gives and gives and gives," Tredway said.