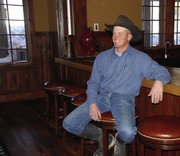 Chad Bedell is an Elk River Valley cowboy through and through, and these days, he's refining a new form of agriculture.
Bedell is the ranch manager at Marabou ranch preservation subdivision, where any day now, the first of more than 60 multi-million dollar homes will go under construction. The magnificent homes will exist alongside a small and carefully managed herd of grass-fed, red Angus steers. It's all a part of the new West.
"The whole philosophy here is not to put the land under pressure, but to produce a healthier product while improving the environment," Bedell said. "We're deliberately under stocked."
His family has been ranching along the Elk River and its tributaries for almost 90 years.
"The whole clan came into the Hahn's Peak area in about 1919 and began ranching in the Willow Creek drainage," Bedell said. Some of the Bedells were in the dairy business.
Chad was just a little boy, maybe as young as 3, when his father, Orville, went to grandpa Doc Arnett and procured him his first mount.
"My first horse was a big old quarterhorse named Flipper Bee," Bedell said. "We didn't have any ponies. We grew up right on the river at Moonhill, and we played a lot on horseback. We would ride right through the willows and the sloughs playing tag."
Chad rode his horsemanship all the way to a World Championship belt buckle in steer wrestling in 1996.
"Every year, I look back on it and it gets farther and farther back there," he says of his professional rodeo career.
The traveling he did as a rodeo cowboy and the many people he met along the way have helped him in his new career. It requires him to mingle with affluent weekend cowboys from all across the country. It's a role he slides into with ease.
Bedell also picked up a bachelor's degree in agricultural economics from Utah State University along the way, and it's that expertise he puts to use today, pasturing a tight little heard of 65 head on 1,800 acres.
The steers are rotated frequently from pasture to pasture, and the animals are weighed frequently so Bedell can record their weight gain on the different parcels.
Marabou owns 15 head, and each owner is entitled to a quarter of beef annually. The balance of the hormone-free beef is marketed locally and served at special events.
The product proved itself out at barbecues last summer, Bedell, said. Marabou developer Jeff Temple proudly reported the cattle operation was in the black last year.
"We're serious about the business - Chad is a cowman," Temple said.