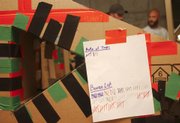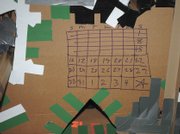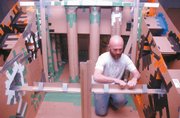 Steamboat Springs — Jim Fletcher has been holed up in a dimly lit parking garage with a 10-foot ceiling almost every night for a couple of weeks now.
He is surrounded by cardboard - large slabs, small boxes and hotel laundry carts full of it litter the corner where he's set up shop. The heavily reinforced, entirely too elaborate contraption that has taken up all his free time won't quite fit under the low ceilings, so his team will have to finish the assembly at Headwall on Saturday - minutes before it will almost undoubtedly disintegrate.
If Cardboard Classic weren't such an institution, it would seem crazy.
"We've got a lot of nights in it, and it's going to be pretty big," Fletcher said, describing his craft over the phone.
In person, it's harder to be modest about the size of this thing, which Fletcher is hoping to keep a secret until it's unveiled at the competition.
"It's kind of gargantuan," he said, standing in front of a structure that required at least a dozen rolls of duct tape and countless quantities of cardboard, which he's been stockpiling while working maintenance for local resorts.
"We've pretty much been going year-round. If we see something cool, we've got places to stash it," Fletcher said of the upper hand his profession gives to finding building materials that stay within the contest's guidelines of cardboard, tape, water-based paint, glue and string.
For his sixth year participating in Steamboat's most bizarre rite of spring, Fletcher is trying to include as many moving parts as possible in a craft that has been preceded by a "Talladega Nights" racecar, a Hummer, a gondola car and a tank.
There's a staircase going up the back, support beams and layers upon layers of carefully cut boxes that have been formed into an image something like the artist's renderings taped up on its front.
"We've created our own special cardboard tools and a lot of secret processes that we can't really disclose - it gets pretty competitive out there," Fletcher said of his building techniques. Still, all those angles and pieces can get tricky.
"I could really use a high school geometry book, in a big way, if you know anyone who has one," he said.
Along with pictures of what they hope the finished product will look like, Fletcher and his team keep a strict record of how much time and hard work they put into the endeavor.
Well, sort of.
"We don't measure in hours. We measure in booze. It seems to be the most accurate measure of time spent," he said, pulling a sheet of paper off a cardboard wall that is marked with dozens of hash marks. Each tally represents a case of beer, and Fletcher is pretty sure the estimates on the paper are low.
Other festivities
For those who aren't planning for the end of the season by crafting cardboard - or for those who just don't have a knack for construction - there's always another option. You can dress like a total fool.
At Rummagers thrift store on 11th Street, there are baskets of day-glo accessories and racks of pastel onesies specially labeled for "Gaper Day." On Tuesday, residents will take to the mountain in their faux-tourist best for the unsanctioned tradition.
Candice Hurst, a cashier at Rummagers, said the most popular items are throwbacks, from fanny packs and leg warmers to anything adorned with gaudy zippers, sequins or flashy buttons.
On Thursday, she said the store had seen a steady flow earlier in the week of young Steamboaters shopping for the occasion. The only hurdle comes with explaining the "Gaper Day Special" signs to the people that the festivity is designed to mock.
"I always feel bad, too, because they're always like, 'What's Gaper Day?' And I'm like, 'How do I explain this, without making fun of you?'" Hurst said.
Along the general carnival atmosphere of closing weekend - enhanced this year with live music and a pond-skimming competition, sponsored by Steamboat Ski and Resort Corp. - Gaper Day and Cardboard Classic are ways to get really, really into a silly celebration.
Even Fletcher will admit the preparation can feel overly intense - but that's part of the fun, he said.
"We love taking something so ridiculous so serious."