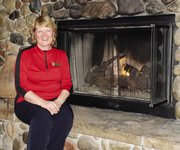 Barbara Robinson was 28 when she moved to the U.S., but she felt the draw even as a child.
"I think I was born on the wrong continent," said Robinson, who grew up in Guetersloh, Germany. "One of the things that fascinated me (about the U.S.) was the opportunity to go to college."
Robinson did just that. It took her 10 years to graduate while working at the Holiday Inn in Key Largo, Fla., and commuting 80 miles to Florida International University, but she never lost her motivation.
"It was just something that wasn't available to me in Germany," Robinson said. "There was no way I would ever miss that."
Seizing another opportunity, Robinson moved to Steamboat Springs in 2001 when the owner of the Holiday Inn in Key Largo, Scott Marr, bought the Holiday Inn in Steamboat. Robinson is the general manager of the hotel and an avid skier and golfer.
"To live somewhere where you just feel like you want to be active, it's good," she said.
Robinson shows her appreciation for her adopted home through volunteer work and the occasional guest lecture at Colorado Mountain College.
In September, when the city was dealing with a water line break that left much of the west side of Steamboat without water, Robinson didn't hesitate to make a Holiday Inn room available for anyone who might need it.
"She was great to work with," City Clerk Julie Jordan said. "She stepped right up to the plate."
In 2004, Robinson was selected among 1,500 Holiday Inn mangers worldwide as the General Manager of the Year.
"This whole service business has always suited me well," Robinson said. "Being able to help people all of the time, it's cool. You feel like you accomplished something at the end of the day."