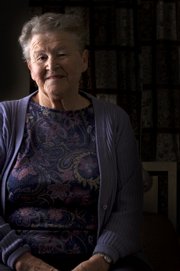 Barb De Vries, a former sexton at the United Methodist Church, is retired - almost.
"Except for elections," she said recently, sitting in her home at 331 Pine St.
She's lived there for 38 years while raising three sons with her husband, Bob. They met at Colorado State University, were married in 1950 and came to Steamboat Springs 40 years ago, when Bob was transferred as a patrol officer from Denver.
Shortly after arriving in town, Barb De Vries signed up to be an election judge. The 1968 presidential election saw Republican Richard M. Nixon defeat Democrat Hubert H. Humphrey and third-party candidate George Wallace in a race that was close across the country - including Routt County.
"We hand-counted them," De Vries said of local votes that kept judges up into the wee hours of the morning.
Such an experience would dishearten some people, but not De Vries. She has volunteered in local elections for four decades and still calls herself "a nonpartisan political activist."
It's a trait she picked up as a child sitting at the family dinner table, where her father would "cuss and discuss" various candidates.
The trait stuck.
A 30-year member of the League of Women Voters who cast her first presidential vote for Dwight Eisenhower in 1952, Barb De Vries also has served on boards for Colorado Mountain College and LIFT-UP of Routt County, and she once hosted 17 foreign exchange students throughout a 20-year period in her family's house.
"My biggest problem is saying 'no,'" she said. "But I've really cut back."
Not by much. De Vries, 77, swims at 5:30 a.m. every weekday, year-round, at Old Town Hot Springs. She's done it for 38 years.
In this year's presidential race, as always, De Vries said she is more concerned about the process than the candidates.
"My biggest thing is getting people to register," she said. "You need to be informed."