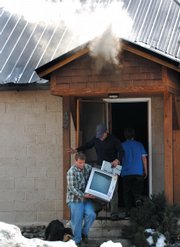 Steamboat Springs — An attic fire damaged a downtown home Wednesday afternoon, but the house's tenants and their pets escaped without injuries and were able to save many of their possessions with the help of their neighbors.
The fire, which broke out at 43 Logan Ave. shortly before 2 p.m., is believed to have started in the attic above the wood stove, Steamboat Springs firefighter Dave Hesselton said. A full investigation of the cause of the fire is pending.
"Somehow, the fire extended from the flue pipe into the attic," Hesselton said. Among the possibilities were that the fire simply got too hot or that a hole in the flue pipe allowed it to spread, Hesselton said.
Steamboat Springs Fire Rescue responded to the scene and was assisted by the Steamboat Springs Police Department and the Oak Creek Fire Protection District. The fire was contained by 3 p.m. Fire officials remained on scene to ensure the flames were fully extinguished and assist with salvage.
Two of the house's new tenants, students at Colorado Mountain College who had not yet finished moving in, were home when the fire broke out and attempted to extinguish the flames. When their fire extinguisher ran out, the students enlisted the help of neighbors to take their three dogs, pet ferret and much of their furniture and possessions outside to safety.
Firefighters worked to extinguish the attic fire alongside a pile of valued possessions in the house's driveway, including televisions, golf clubs and an Xbox.
According to the Routt County Property Assessor's Web site, James W. Boyd and Deirdre Dwyer purchased the 742-square-foot house for $535,000 in July 2006. The house was built in 1948.
- To reach Melinda Dudley, call 871-4203
or e-mail mdudley@steamboatpilot.com