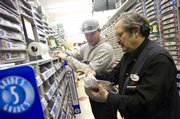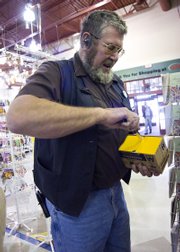 Steamboat Springs — A good chunk of the folks who work at Ace Hardware in Steamboat Springs came from some other field.
Richard Dastyck spent almost 30 years teaching. Cooper Barnett was in the restaurant business for 35 years. Terry Wattles worked for the Colorado Division of Forestry for 32 years.
They all found their way, in retirement or as a second career, to the hardware store on the west side of Steamboat. Store Manager Scott Schlapkohl said it's common for people to swing by and mention that they'd like to work at the store when they retire.
So, what's the appeal?
People often are interested because they've developed a relationship with the employees at the local hardware store, Schlapkohl said.
"A lot of people have lived in town a long time," he said. "They've shopped the store. We know them, and they know us."
It's also a good place for people who want to do seasonal or part-time work, Schlapkohl said.
"It's a people business and the type of business where you have flexible hours," said Dastyck, who is retired and works part time. "I have a block of time to myself."
It's also a low-stress job with little conflict, Dastyck said.
"A lot of times, there are antagonisms of one kind or another that build up" in the workplace, he said. "That happens very, very seldom here."
Oh, and the money part isn't so bad. Dastyck said he likes having the extra income.
There's also a bit of down time. On Thursday morning, most employees could find a few minutes to sip coffee and chat with a visitor.
Schlapkohl estimated that 10 percent to 15 percent of
Ace's employees are retired. Others see their friends working at the store and joke about how they're going to come to Ace, too. Schlapkohl said it's nice that those potential workers come to him - particularly when the labor market is tight.
He said others in town have asked him how he recruits the retired crowd.
"We're not doing anything to recruit," Schlapkohl said. "People just walk in."
Barnett works full time at Ace and said he switched jobs because he wanted to get out of the restaurant business, which he described as "terribly difficult." The hardware store is a lot less crazy, he said. And there's the social aspect.
"Here, I see so many people I haven't seen for years because I was either stuffed in an office or stuffed in the kitchen," Barnett said. "Here, I'm busy, but I'm with them."
Ace was a natural fit for him because he grew up tinkering with cars and has worked in machine shops. Also, stuff breaks in restaurants.
"If you can't fix it, you're not going to make it," Barnett said.
Wattles, the former forester, works alongside Barnett. He said he's employed at Ace because he needed something to keep him busy. He also enjoys the social aspect of the job.
"One thing I miss about the state forestry service is the people I'd see regularly," Wattles said. "What's nice about here is that most of them come through."
The store often gets people who have spent years in the work force and know the value of hard work, Dastyck said.
"One thing with retired individuals is they've had time to develop a work ethic," he said.
Manager Doug Post agreed - kind of.
"I had the privilege of hiring all these old geezers," he said with a grin.
- To reach Blythe Terrell, call 871-4234 or email bterrell@steamboatpilot.com