If you go
What: Cow Town Ranch Tour, presented by the Community Agriculture Alliance, Routt County Cooperative Extension Service and Historic Routt County
When: 1 to 4:30 p.m. Thursday
Where: Meet at the Artists' Gallery of Steamboat, 1009 Lincoln Ave.
Cost: $50 for adults; $10 for children ages 7 to 12; free for children 6 and younger
Call: 879-0825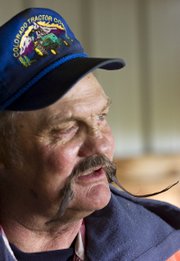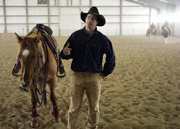 Steamboat Springs — You'll come across some characters on a Routt County ranch tour.
Pete Wille says he got into the sheep business by accident, calling it "a 4-H project that got totally out of hand." On Thursday, dozens of newborn lambs amble in the mud on his ranch just off Colorado Highway 131.
Jason Patrick gets a little embarrassed when he's asked to tell his best horse-training story at Sidney Peak Ranch, finally admitting the humiliation of being bucked from the first horse he ever tamed. Now, he breaks bad equine habits with subtle movements and careful training regiments.
In its third year as a commercial enterprise, the Cow Town Ranch Tour is a way to inform residents and visitors of the ins and outs of local agriculture, while hopefully invigorating that industry, said Marsha Daughenbaugh, executive director of the Community Agriculture Alliance.
"We felt that there was an educational opportunity here, and that perhaps we could make some money for our three organizations at the same time," Daughenbaugh said.
"We look for honest experiences," she said, adding that each stop is a real, working ranch or agricultural facility, often staffed by longtime local personalities with distinct family connections to the land.
Loading onto a 20-passenger bus, the handful of locals and visitors who took the two-stop tour last week got an earful of information about working the land of the Yampa Valley from Daughenbaugh, along with Routt County Cooperative Extension Service Director C.J. Mucklow and Historic Routt County Executive Director Todd Hagenbuch.
They learn that 59,000 acres of area land are under conservation easement; that as many as 80,000 sheep are set loose to graze on Routt National Forest during the summer; that cattle is the main industry here; and that the introduction of the train did a number on small farming communities.
The idea is to impress the importance of agriculture on an increasingly developed town.
"It's part of the culture, and we want to keep that to make this unique in the resort marketplace," Mucklow said, noting the money produced by agriculture in Routt County - $25 million - is eclipsed by the money attributed to an interest in seeing it - $30 million.
Julie Reid, a Routt County retiree who has lived in Steamboat Springs for five years but has been coming here since the late 1970s, said she's gained a wealth of knowledge on two ranch tours.
"I'm not a rancher, I'm a retiree, but I think it's so important to have an awareness of the current state of agriculture in Routt County. It's just really informative for a city girl," Reid said.
From becoming versed on the importance of consistency in training horses to the average market rate of lamb, ranch tour participants find a recurring theme: there is a lot that goes into living this way.
"Three hundred acres is not going to pay for itself in this valley," Patrick said. "For us and for my expertise, the only way to make this a profitable ranch was to go into the horse industry."
It's a prevailing theme for each of the stops on the tour's five possible routes - ranching is a difficult business, one that's never been lucrative and certainly isn't today. Most ranchers have an easier time selling their land, and the pressure to do that is tremendous. Those who do stick with it take on second and third jobs to keep the family business on its feet.
"It's not the four-legged coyotes that are going to run you out of business, it's your two-legged coyotes," Wille said of battling natural and manmade predators in the sheep industry.
"I can't say we're going broke doing it. I'd say we're breaking even," Wille said, describing his morning routine of waking up at 2:30 a.m. to plow highways.
His wife gets up a few hours later to work at a bank, and his son works in lumber.
"You've got to have a little love for the land and a little love for the animals. If you're doing it just for dollars and cents, I don't think the wages would make it worth your while."