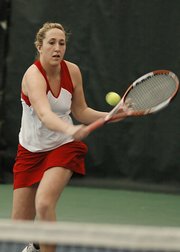 Steamboat Springs — Steamboat Springs senior Lisa Floyd won her No. 1 singles match in straight sets, leading the way as the Sailors easily handled Glenwood Springs on Saturday at the Tennis Center at Steamboat Springs.
Steamboat won six of the seven varsity matches, falling only in No. 4 doubles.
"Each kid went out there composed and played well," Steamboat Springs High School coach John Aragon said. "They had seven seniors and were very athletic, but our girls played very well in the matches."
Floyd was the first Sailor on the court and the first off, beating Glenwood Springs' Madison McCallum, 6-1, 6-2, to start Steamboat's big day.
Floyd said it was exactly the way she had hoped to bounce back after losing a two-set match earlier in the week to Vail Mountain's Shannon McNamara.
"I felt a lot better than last time. I was in the groove better and my shots were falling in," Floyd said. "Last week, I wasn't very focused, and I got down on myself, but this was totally different."
Neither set was ever in doubt as Floyd earned big leads early. She set the pace with a commanding serve that left McCallum off balance, and she piled on the points by dropping shot after shot just over the net.
"Her opponent came back in the second and started playing better, but Lisa was just too dominant," Aragon said.
The Sailors biggest surprise may have come from the No. 2 singles player, Valerie Lezin. The Steamboat sophomore played singles Saturday in place of the squad's usual competitor, Shelby Reed. Reed was playing in a tournament in Las Vegas, however, and Lezin didn't hesitate to seize the advantage.
She also won in straight sets, 6-2, 6-2.
"Valerie went in and played well. I was really impressed with her composure," Aragon said. "That was a big step for her."
The squad didn't run into much trouble early in the doubles ranks, either. Sara Bearss and Kylee Swiggart overpowered Megan McGavock and Tess Kennedy for a 6-3, 6-1 victory in No. 1 doubles. Mandy Thieleman and Hayley Richman cruised to a 6-1, 6-1 victory in No. 2 doubles.
Claire Parsons and Alexis Lezin won against Glenwood Springs' No. 3 doubles team, 6-0, 6-0.
Glenwood Springs didn't go through the day without a strong performance, however. Siobhan Sullivan and Haylie Westphal handled Steamboat's Lauren Siegel and Elise Krueger, 6-0, 6-4.
"In the first set, we played really well. The second set was a little rough, but we pulled it off," Westphal said.
Westphal and Sullivan, seniors, have been playing together for three years and have yet to lose in 2008.
"We were trying to be really consistent with our serves and in putting the volleys away up at the net," Sullivan said.