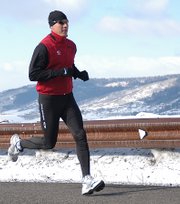 Steamboat Springs — The diversity of sports in Steamboat Springs was displayed all through the city Friday.
As they had every morning since late November, the lifts at the Steamboat Springs Ski Area fired up for a long day of hauling skiers and snowboarders up the slopes. Elsewhere, the T-bar continued to pull riders up for a quick dash down Howelsen Hill and skiers whisked past the Brent A. Romick Rodeo Arena, completing long cross-country skiing workouts.
Meanwhile, the Yampa River Core Trail, the six-mile walkway along the river, was experiencing a surge of its own as Steamboat resident Allen Belshaw ran toward downtown.
Bikers, walkers and runners worked the dry concrete, stretching their legs outdoors in one of the first opportunities to do so.
It wasn't a perfect day - all were still bundled up with gloves and hats - but it was an essential day, said Belshaw, who is eager to get back on the pavement in preparation for a long summer running season.
"You try to lay down your endurance pace over the winter. It's a time when I can run long distances at lower intensity or get on my skate-skis and go for a skate and just enjoy the winter without going really fast but still staying in shape," Belshaw said. "Then, about this time of year, I start to add hills and intensity. I'm just making the transition now."
There's no need to keep up with Belshaw's goal of running 100-mile ultramarathons, but if you're going to participate in this year's Steamboat Marathon, scheduled for June 1, you probably should have been on the trail Friday, too.
Only 69 training days remain until the event, not nearly the time recommended for a complete work up for a marathon, but plenty of time to allow already experienced runners an opportunity to work up for the race.
For Belshaw, staying in running shape is a year-round obsession made difficult and rewarding by Steamboat's snow.
A week ago, the Steamboat-area doctor was sliding across the finish line of the North Routt Coureur Des Bois, a 90-kilometer cross-country race that Belshaw said acted as his unofficial switch from winter to summer.
"You don't really have another option up here," he said of swapping between on- and off-snow sports. "It's definitely more interesting. Year-round, it's hard to just keep running and running, so to mix it up with some snowshoeing and skate skiing just makes it more exciting."
There are plenty of steps that need to go into running in any of the three events involved in this summer's Steamboat Marathon, in which a half marathon and 10-kilometer will accompany the 26-mile race. Training might not be the only thing potential competitors are too late for, either.
The Steamboat Springs Chamber Resort Association said Friday it had just 50 of 1,200 spots remaining for the half marathon. The full-length race still had some availability, and the 10K event won't be limited.
For those already registered and those looking to get into racing shape, the warmer temperatures and melting snow are a welcome sign of spring.
Henry Fabian took to Heavenly View Road on Saturday morning for some hill work. Fabian, a veteran of both the full and half Steamboat marathons, plans on running the half marathon this year but is gearing up for a full marathon in Ohio, where he lived before coming to Steamboat.
"I started running in November, working in a home gym with a treadmill," said Fabian, also a doctor. "I mixed that with things outdoors. Probably about 1/3 to 1/4 of it has been outdoors. The rest has been on the machine."
He's not just training to finish the marathon, however. He's gunning to do it in less than four hours.
"I haven't had enough time to prepare for the Steamboat Marathon," he said. "I really want to break four hours. That's the Holy Grail. With a heavy snowfall and not being able to get the high mileage, it's unrealistic to expect I'd be able to get out there to do it in June, so I figure I'll have a good base off the half marathon here."