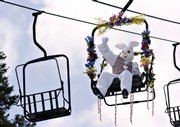 Steamboat Springs — At the tender age of 2, Elisa Engelken already knows what Easter means for her.
"She's been saying 'Easter bunny bring candy' for days," Elisa's mother, Nancy Engelken, said Saturday.
Engelken and her daughter joined hundreds of youngsters and their families at a crowded Howelsen Hill on Saturday morning for the city of Steamboat Springs' 33rd annual Easter Egg Hunt. Parents pushed their children across the snow at Howelsen - some in snow-tired strollers, others piled on sleds, clutching their Easter baskets on the bumpy rides across the softball fields - to take part in pre-Easter festivities.
Children scrambled for Easter eggs in the hay, as they did earlier
in the day at similar Easter egg hunts in Hayden, South Routt and at Steamboat Christian Center's "Eggstravaganza."
At Howelsen, young egg-hunters stockpiled their treasures in everything from the traditional Easter basket to Halloween candy buckets, metallic gift bags, insulated lunch pails and even a yellow toy dump truck.
Some late arrivals found the Easter Egg Hunt already picked clean of its colorful plastic candy and prize containers.
"We just missed the eggs," Steamboat resident Amy Satkiewicz said, as her daughter Olivia good-naturedly tromped around the hillside, refusing to give up.
"She's still searching desperately," Satkiewicz said.
Most parents did not mind the long line for a visit with the Easter Bunny, who posed for photos on the spring-flower-decorated Barrows chairlift.
"We've got balloons - that's the most important thing," said Stephanie Courson, holding her 2-year-old son, Austin. "And lollipops."
Kids also crowded around the rabbit pen to catch a peek at 10-year-old Kyra Hornor's real-life Easter bunnies.
"I don't think they can compare with the real one over there though," Kyra said.
Kyra proudly held out her rabbits for a few friendly pats on the head from onlookers of all ages. Most of the children were very good with the 7-year-old, lop-eared rabbits, although some, particularly the toddlers, did not know how to handle the furry pair, Hornor said.
"I was holding Rain, and a baby patted my glove - I was like 'That's not the bunny, that's me!'" Kyra said.
In addition to residents, many vacationing families crowded Howelsen on Saturday to give their kids a chance to hunt for eggs in the hay and the snow, with Friday's lift tickets still fluttering on their jackets.
"There's a lot of people in town for Easter," Satkiewicz said. "It's insane."
Easter worship services
- Holy Name Catholic Church
Where: 524 Oak St.
Call: 879-0671
Services: Easter mass is at 8:30 and 10:30 a.m. and 4:30 p.m.
- Seventh Day Adventist Church
Where: 347 12th St.
Call: 871-4927
Services: 11 a.m.
- St. Paul's Episcopal Church
Where: Ninth and Oak streets
Call: 879-0925
Services: 8 and 10:30 a.m.
- First Baptist Church
Where: 3200 Divine Way
Call: 879-1446
Services: Sunday school at 10 a.m., followed by 11 a.m. worship and a 6:30 p.m. evening service
- Concordia Lutheran Church
Where: 755 Concordia Lane
Call: 879-0175
Services: 6:30 a.m. sunrise worship, with regular services at 8 and 10:45 a.m. An Easter breakfast runs from 7:30 to 10:30 a.m. Sunday.
- Euzoa Bible Church
Where: 32305 Routt County Road 38
Call: 879-0123
Services: 9 and 11 a.m.
- Mission of Grace Baptist Church
Where: 361 Sunflower Drive, Hayden
Call: 276-3111
Services: 11 a.m.
- Steamboat Christian Center
Where: Off U.S. Highway 40, just east of town
Call: 879-0063
Services: 10 a.m.
- United Methodist Church of Steamboat Springs
Where: Eighth and Oak streets
Call: 879-1290
Services: 6:45 a.m. sunrise worship on the mountain at the top of the gondola. The gondola will start running at 6 a.m. free of charge. There are Easter services at the Church at 9:30 and 11 a.m.
- Anchor Way Baptist Church
Where: 40650 Anchor Way
Call: 879-7062
Services: 8:45 and 10:45 a.m.
- Church of Jesus Christ of Latter-Day Saints
Where: 1155 Central Park Drive
Call: 879-0220
Services: Sacrament starts at 9 a.m.
- Steamboat Church of Christ
Where: 1698 Lincoln Avenue
Call: 879-6670
Services: 9:30 a.m. Bible study, followed by 10:30 a.m. worship
- Steamboat Springs Evangelical Free Church
Where: 345 Anglers Drive
Call: 879-3020
Services: 10 a.m.
- Yampa Bible Church
Where: 8B Moffat Avenue, Yampa
Call: 638-4411
Services: 8:30 a.m. sunrise worship, followed by a 9:30 a.m. breakfast and 11 a.m. service
- Hayden Congregational Church, UCC
Where: 202 E. Jefferson Avenue, Hayden
Call: 276-3510
Services: Sunday school and worship start at 10:30 a.m.