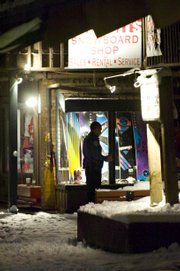 The formula for the future of downtown Steamboat Springs is pretty clear: more residences will equal more people. More people will equal more cars. More people and more cars are likely to equal more entertainment, noise and traffic.
Mainstreet Steamboat Springs has its own formula to address these issues: more dialogue.
The group plans to use materials from the nonprofit Responsible Hospitality Institute to get people talking after ski season and "before it gets crazy" for summer, Mainstreet Manager Tracy Barnett said.
"I really want this to be a collaborative project and a positive process," Barnett said. She said she'd like to get businesses, residents and others involved in the discussion.
A development boom is well under way downtown. Several complexes are going up between Lincoln Avenue and Yampa Street, including Alpenglow and Howelsen Place, which Jim Cook is developing.
"Downtown will be an exciting place to be," Cook said. "With that brings some growing pains."
Current residents said they have had problems with parking and noise, particularly associated with restaurants and bars.
"We want people to enjoy eating and drinking downtown, but they can't act a fool," said Paul Montoya, who lives on the first floor of the Residences of Old Town across from Sunpie's Bistro on Yampa Street. He said he has had to ask people outside to quiet down late at night.
Mike Miller, one of Sunpie's owners, said the restaurant hasn't heard from neighborhood residents. He said he would be open to talking about any issues that arise.
"We try to keep a pretty good lid on it," Miller said about noise from customers. "We want to be good neighbors, just like everybody else."
Barnett said it was important for people heading downtown to realize the value of entertainment and restaurants - and to know what to expect in a more urban environment.
"There's conflict on both sides; it's not the big bad restaurants that are the problem," she said. "If you move into this district, you need to understand that this sort of thing will be going on."
Past conflicts
Issues have surfaced between late-night establishments at Ski Time Square and people staying at the Torian Plum, Steamboat police Capt. Joel Rae said.
He said incoming downtown businesses, particularly those that will have music, should plan for the noise and be sure to adequately soundproof their establishments. But there often will be patrons leaving bars and restaurants between 1 and 2 a.m., Rae said.
"What we ended up doing in Ski Time Square when we were going through noise complaints is we'd have one to two officers there from 1:15 in the morning till those
bar crowds would disperse," he said. "But it's kind of hard when you have 50 to 75 people laughing, yelling and having fun - it's difficult to say, 'Could you please keep it down here?'"
The city's municipal code has this to say: "No person shall recklessly engage in, or be responsible for, conduct which is so loud that it materially interferes with or disrupts another individual in the conduct of lawful activities at such individual's home." That section of code
does not apply to special events, however, many of which take place downtown - the rodeo, festivals and parades, for example.
People have the right to not have their peace disturbed at any time of day, Rae said.
At the same time, he said, a little research could go a long way toward preparing downtown homeowners for their environment.
"I think that is their responsibility as property owner," Rae said. "If they think they're going to be buying a condo that's right above or right next door to a clothing store that closes at 7, it's a lot different from being right above or right next door to a nightclub. Doing their homework could alleviate some potential problems."
Kenny and Holly Day, who live on the first floor of the Residences of Old Town, said they expected to deal with downtown's noise, traffic and parking issues when they moved in. The two said they love the convenience of living near the Yampa River and Howelsen Hill.
They watch the skiers on the hill while eating breakfast, Holly Day said, and Kenny said they head across the street in the summer to tube down the river.
"You can walk anywhere you want to go, and there are all these great events," Kenny Day said.
Holly Day described the parking squeeze as a "bummer." Old Town residents get one parking space per unit, the Days said, which means some juggling is required when there are two cars.
Parking is an ongoing issue, Cook said, citing figures indicating that employees of downtown businesses use 1,800 of the 2,800 available public parking spaces.
"That is the axis of the problem," he said, adding that the issue will not go away as more businesses and events hit downtown.
Getting a jump-start
Allison Harnden, vice president of the California-based Responsible Hospitality Institute, praised Barnett's group for taking on the issue early in the game.
"Mainstreet Steamboat Springs really should be commended for acknowledging that they're on that path and doing something beforehand," she said. "It's so much easier to plan ahead than to try to turn back the clock."
Harnden suggested getting a variety of groups involved in the dialogue. She cited a situation in Scottsdale, Ariz., where art galleries open during the day were affected by trash left over by the late-night crowd.
"I would just say that you might be surprised at the number of people who have an interest in the outcome of this," she said.