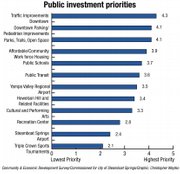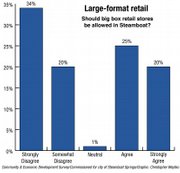 Steamboat Springs — Steamboat Springs is growing - that's no secret. What city officials are trying to nail down is how much, how fast and in what direction.
City Council members learned more about that at their meeting Tuesday night, when Economic and Planning Systems representatives presented the economic development study they have been working on for months.
"This is not intended to be the be all, end all of the conversation," City Manager Alan Lanning said. "This is the beginning of the conversation."
A key part of Tuesday's conversation was the future in Steamboat of large-format retail, often referred to as "big box" chain stores. Part of the development study included a survey of the public, which weighed in on the issue.
Residents were split: 45 percent of respondents said they should be allowed in the city, and 54 percent said they should not. One percent was neutral.
"I would have to say that's not a mandate either way," Dan Guimond of Economic and Planning Systems said in an interview Friday. "That just says it's an issue that I think the community is going to have to continue to address and make a decision about which way they want to go - realizing there are impacts either way."
Council members were divided, too, expressing a desire to protect local specialty business while stopping "retail leakage" - the flow of retail dollars out of the city. The study found that one-third of the money spent by Steamboat residents on retail purchases goes to stores outside the city.
The goal for the city, council members said, is to find a balance.
"With the amount of retail coming on market, we can let it happen haphazardly, or you can try to engineer what you want and try to attract some of those businesses," Council President Loui Antonucci said Tuesday. "If we can build a healthy mix, we'll stop some of that leakage."
Officials suggested large-format retail in the area was inevitable.
"If there's not a big box in the west of Steamboat, there's going to be one down valley, and we're all going to be driving to it anyway," Council Member Cari Hermacinski said. Hermacinski said she would like to see a more detailed study to determine what type of store would work best in Steamboat.
The city has a big box ordinance that stipulates any commercial development larger than 12,000 square feet be held to higher design standards and provide a high level of public benefit.
The council spent time Tuesday looking at what city residents have had to say so far.
The survey of the public, conducted in the fall, garnered a statistically reliable sample of spending habits and local priorities, Guimond said. Economic and Planning Systems sent out 3,500 surveys and received nearly 600 back. Community concerns that ranked highest were growth management, work force housing and traffic.
Guimond said high property values were causing a housing crunch for some.
"The middle class is still working here; the middle class is obviously being priced out of the housing market," he said at the meeting. "The question becomes, will the middle class stick around if they can't live and work in Steamboat, which is what they came here to do in the first place?"
He said prices were pushing people out of town and into surrounding areas. The economic development study showed that 75 percent of residential con-
struction was short-term rental housing or second homes.
"Employment is increasing, but there is not a commensurate increase in work force housing," Guimond said. "That will be addressed either by the marketplace or public policy or some combination of the two."
In addition to the hot-button issues of large-format retailers and housing for workers, the study highlighted some advantages Steamboat has over other mountain resort communities.
Although much city job growth is in the tourism arena, positions are being added in the business, finance, health and construction fields, the study indicated.
About 10 percent of the employment in Steamboat is location-neutral, which means the workers depend on sales outside Routt County or telecommute with a firm located elsewhere.
That's crucial, Noreen Moore said Friday. Moore is the business resource director at the Routt County Economic Development Cooperative; the group has been working on a livability index for the county for more than seven months.
Moore said the number of location-neutral employees shows that Steamboat has more than tourism - and even more than agriculture and other industries.
"The thing that we have that's attractive is that we're a real community, a community of children and families," she said.
Technology allows people to work anywhere, Moore said, and many are coming here.
"Before, if you wanted to do economic development, you asked, 'How do we get tourists in here?'" she said. "Now you might add to that, 'How do we take care of families here and children and safety - and make it possible for people to be able to talk to each other?'"
All of those questions could end up being part of the discussion. Guimond said his company would continue to work with the city to come up with a three- to five-year economic plan. Economic and Planning Systems will present a draft action plan in the next couple of months, he said.
Guimond said his company and the city were at too early a point to make conclusions or predict what that plan might look like.
As Moore's group prepares its index, she said, Steamboat and Routt County will have to reframe their talks about the economic future.
"This is a whole new world," she said.