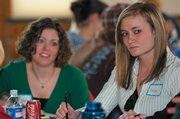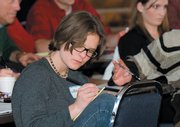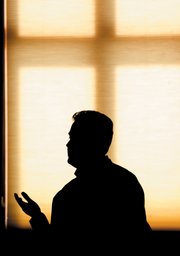 Kevin Basik has the kind of infectious enthusiasm that can spark a roomful of laughter with a corny joke.
"Does anybody have any tape?" Basik, a U.S. Air Force veteran and motivational speaker, asked more than 30 Northwest Colorado high school students Monday. Before giving the punchline, Basik paused to flex his muscles.
"Because I'm ripped," he quipped, eliciting groans along with the laughter.
One of several speakers at the fifth annual Routt County Leadership Symposium in Olympian Hall at Howelsen Hill Lodge, Basik used self-deprecating humor to make jokes about personal qualities such as strength. But in most of his dialogue with the students, he spoke about strength very seriously.
"In our daily lives, there are little opportunities where we go: 'Um, I hope somebody does something,'" Basik said, citing situational examples such as underage alcohol use. "Stand up and take a stance : It's (about) acknowledging that this is going to be uncomfortable, but I'm going to do it anyway - because it's the right thing to do."
High school students from across Routt County and North Park spent the day talking about issues including peer pressure, trust, ethics and how to be good leaders among their friends and the community. The students also took part in a self-assessing personality profile that Steamboat Springs High School senior Sammi Smalley called "inspiring." North Park senior Diana Davis said looking inward could change how she interacts with others.
"It helps you understand other people better, so you're not judging them," Davis said of the profile. She plans to study graphic design at Montana State University in the fall.
In another activity, Basik asked students - who sat at tables in small groups, each with a teacher or facilitator - to write down the one thing they are most proud of accomplishing in their lives. Rather than ask the students to reveal what they wrote, Basik asked them to talk about why they chose what they did.
"I overcame a fear," Davis told her group. Other students gave similar answers.
"It seems like the theme is 'overcoming,'" facilitator Mark Hyatt said. "Either a fear or somebody telling you you couldn't do it - where do you all get the wherewithal?"
"I'm an optimist," Davis replied with a smile.
The symposium was sponsored at no cost to local schools through private donations to the Northwest Colorado Board of Cooperative Educational Services and through significant contributions from the Daniels Foundation. The symposium is part of a regional pilot program to develop leadership skills in students in rural school districts.