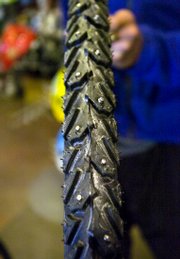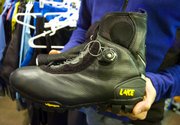 Tips for riding through the winter
From Orange Peel employee Essam Welch:
- Ride cautiously and slower, and consider lowering the seat.
- Bikes take a lot of abuse during the winter, so aside from basic adjustments, a full set of new parts for a commuter bike might not be worth the money.
- A good set of fenders, which run $30 to $50, keep the frame protected from debris. Detachable and permanent models are available.
- Tires with steel or carbide studs will help grip the snow, and can be had from $45 to $100 per tire. It's expensive, Welch said, but a good set with carbide studs can last five or more winters.
- Days are shorter in the winter, so front and rear lights are key to being seen by motorists. Basic visibility lights cost between $20 and $50; a headlamp that allows riders to see far ahead on dark roads can go for upwards of $200.
- Special goggles, helmets and clothes are available, but a solid pair of old ski gloves and basic Steamboat winter wear is enough to stay warm, Welch said.
- Expect to be a little chilly at the beginning of the ride, and dress accordingly with just enough layers to keep heat in once your body warms up with the ride. "Don't dress like a downhill skier. Dress like a cross-country skier," Welch said.
Steamboat Springs — Chris Tamucci is pretty sure he has it easy. He rode his bike to work most days in a 400-plus-inch winter, and he says it was less work than trying to shovel that amount of powder out of a driveway.
"The main thing is it's easier than scraping ice off your windshield and warming your car every morning," said Tamucci, an employee at outdoor clothing supplier BAP, which offers an incentive program for bike commuters.
"Besides the economic and environmental benefits of not having a car, I'm a bike racer. So it's important for me to be able to stay in shape through the winter," he added.
Whether it's for sustainability, exercise or entertainment - most often, it's for a combination of those things - many Steamboat Springs residents stay true to their outdoors ideals through the winter.
"I do it for the exercise; I do it for the peace of mind of not being in traffic," said Jeff Troeger, a professor at Colorado Mountain College who has taken a bike to work for more years than he can remember.
"And boy, when you're used to riding your bike and go back and get in your car - talk about realizing that we've got a traffic problem in town compared to what we had a few years ago," Troeger said.
Sustainability is important to Troeger, who said he tries not to have more than one family car on the road at a time.
"Both on pollution and carbon dioxide emissions, it's kind of a green approach," he said.
The idea is to consider bicycling a viable form of transportation, said Betsy Jacobsen, bicycle and pedestrian coordinator for the Colorado Department of Transportation.
"It's all about getting people out of their cars and using active transportation rather than driving all the time. It helps reduce congestion on the road and it helps improve air quality," Jacobsen said.
Getting ready to make a movement-heavy morning commute is relatively simple, Jacobsen said. She prefers earmuffs to a hat under her helmet, and keeps limbs warm with shoe covers, gloves and clothes that are water-resistant and warm.
Essam Welch, who works retail at Orange Peel Bicycle Service, said most concerns about keeping out the cold while riding through the winter aren't a big deal. Old ski clothes and a solid pair of shoes do the trick, he said.
"People ask how I stay warm riding through the winter. I ask them how they stay warm on a metal ski lift when they're not moving. It's basically the same thing we all do around here anyway," he said.
The ride isn't bad, outside of the few days racked with sub-zero temperatures and feet of powdery snow, Welch said. The Yampa River Core Trail is plowed daily - though not always in time for the morning commute - and motorists are for the most part conscious and courteous of cyclists.
"I spend very little money on it, and it keeps me healthy," Welch said. "I like riding to go skiing, and I feel like I start my day with my legs warmed up."
Like just about anyone who rides a bike, walks, takes the bus or drives in winter conditions, Welch doesn't give much weight to his chosen mode of transport. It's just how he gets to work.
"Pretty much day in and day out, it's my favorite way to move around," he said.