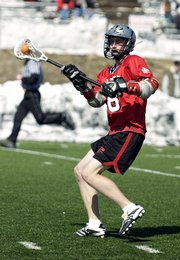 Steamboat Springs — There the Steamboat Springs boys lacrosse team was again, knotted in a tight game with Evergreen as the time shrunk. Tied at 6-6 late in the third quarter, it looked like an all too familiar scenario for Steamboat.
The previous three tries against Evergreen, Steamboat dropped two overtime games and a one-goal game.
This time, however, Steamboat wouldn't have any of it.
Chase Grippa and Kevin Bertrand each scored three goals - including Bertrand's go-ahead goal with 7 minutes and 44 seconds left in the third quarter - to send the Sailors to their first victory of the year, a 10-8 triumph.
"The win feels good. Any win does, but especially against Evergreen," said Bertrand, whose goal put Steamboat ahead 7-6, the team's first lead of the season. "We knew if we'd go out there and play our hardest, we'd come away with a W."
Steamboat played with its most balanced effort of the season. Along with Grippa and Bertrand, Steamboat got scoring from Gus Worden, Tyler Ostrom, Garret Ehrick and Bryce Peters.
Where only one of Friday's goals was assisted, Steamboat had assists on five of its 10 tallies Saturday, along with another solid performance from senior goalie Scot Forney, who stopped 20 shots.
The Sailors (1-3) also won 38 ground balls to the Cougars 25.
"We didn't give up. We didn't do anything badly. It was good," said Steamboat coach Bob Hiester, whose team weathered 10 penalties. "I'm happy for the kids. I told them, 'You have to work hard to win. You don't have to work very hard to lose.' They did, and it paid off."
Evergreen jumped out to a 2-0 lead before goals by Peters and Grippa tied the score. The two teams then traded goals, going into halftime tied at 5, before a Sam DeKoven goal four minutes into the third quarter gave Evergreen a 6-5 lead.
But that's when the Sailors buckled down. Worden scored his goal to tie the score at 6, before Bertrand scored twice to put Steamboat up for good.
"We're playing so much better. We played on a different level than I've ever seen us play," said Forney, who kept Steamboat in the game with save after save. "Our defense knew what they had to do, and they did it. They played awesome one-on-one defense."
Now Steamboat prepares for two road games - Tuesday at Conifer and Friday at Englewood.
"This is a great platform for us. We were kind of frustrated the first two ball games," Hiester said. "Now you have something to build on. Those are ball games that are going to help."