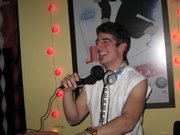 Steamboat Springs — Nick Marzano
Age: 25
Occupation: Teacher, disc jockey, All That Jazz employee
Place of birth: Indianapolis
Q. When did you move to Routt County and what brought you here?
A. I moved here as a school-based mentor for Rocky Mountain Youth Corps. That was three years or four cars ago.
Q. What's the biggest risk you've taken recently?
A. I ate some of that recalled beef a couple of weeks back. Whoops.
Q. Describe your morning routine.
A. It varies, but I will say this: If you wear sweaters over your collared shirts, you save time on ironing.
Q. Has a book ever changed your life? What was it and why?
A. It's hard to quantify how much books change your life. I have a quote from Thomas Aquinas on my classroom wall that reads, "Beware the man of one book."
Q. What's the best piece of advice you've ever been given?
A. Listen.
Q. What three things would you want people to know about you?
A. I need a variety of activity, a family of friends, and incredible dance music to survive.
Q. What did you want to be when you grew up?
A. A Thundercat.
Q. If you could invite any four people to dinner, who would they be and what would you talk about?
A. Salman Rushdie, David Bowie, Kurt Vonnegut and Barack Obama. We'd talk about the state of things, activism versus education, and why David Bowie ever thought Tin Machine was a good idea.
Q. Do you collect anything?
A. I have completely lost track of the CDs and mp3s that clutter my house and my computer. I DJ to support my habit, and vice versa.
Q. In the Meatloaf song, "I'd do anything for love, but I won't do that," what is that?
A. Vote Republican?
Q. Who is your favorite superhero? Why?
A. Batman. The people's superhero. People say "Superman" because he's actually super. But what's difficult about circumstance making you super?
Q. Do you have any phobias?
A. Irony. And heights. If I ever found myself on a cliff under ironic circumstance : I'd be upset.
Q. If you could go back in time, to what event or time period would you go?
A. I think we're living on the brink of some pretty revolutionary times right now. I'd probably just catch a Talking Heads concert and come back home.
Q. What is your favorite thing to do in Routt County?
A. The skiing is pretty good around here.
Favorites
Book: A History of the World In 10 1/2 Chapters Julian Barnes
Song: Time To Pretend MGMT
Color: Green
Food: Pad thai
Sport to watch: Ninja Warrior
Vacation spot: St. Joseph's Peninsula, Fla.
Recreational activity: DJing
Movie: The Royal Tenenbaums
Magazine: Rolling Stone