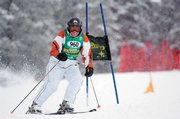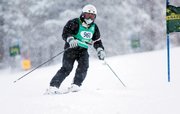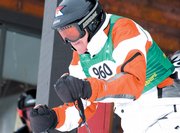 Steamboat Springs — Naomi Wain had just one thought upon crossing the finish line of her NASTAR race Friday morning.
"Let's go find some powder," she said, barely hesitating to find her son and daughter-in-law, who were waiting at the bottom of the run.
Wain, at 85 years old, is the oldest woman competing in this weekend's NASTAR national championships, set to wrap up today at Steamboat Ski Area. Her age did little to slow her Friday.
She said she wasn't planning on sticking around for her optional second run.
"I won't do better. I've never done better," she said. "I'm as happy as I could be. Now, I hope we can find some good snow somewhere."
Wain traveled from her retirement community in Santa Barbara, Calif., for the weekend's festivities. She said it was her first trip to Steamboat Springs, but far from her first trip in search of powder. She hits the slopes at least 60 times a year, and knew off the top of her head that she'd lucked into 23 powder days.
Skiing 60 days in Santa Barbara is no easy task. To make it happen, Wain hops a jet as often as possible for a direct flight to Salt Lake City and a few days on the slopes.
She has been skiing NASTAR races since she was 50, and credits her frequent pilgrimages to the ski mountains of Utah as one of the main things keeping her riled up, active and eager to hunt down powder, even at 85.
"If I'm alive and ticking, I'll do it at 90," she said. "Skiing, the thought that I have a goal to work at, boy does it work. If I stopped exercising, I'd probably be dead. I see a lot of people die in my senior complex. People don't move, and then they move less as time goes on. : Keeping fit is the most important thing you can do as you get older. It's a commitment."
John Woodward, the oldest man competing, echoed Wain's philosophy.
Woodward, 92, said he's been skiing for 82 of those years. He was an officer with the 10th Mountain Division during World War II.
He doesn't hit the slopes as often as Wain - about 35 times this year - but was thrilled to get out and blast down the NASTAR course set up on the Bashor run.
"I've raced about 20 years in the masters' division, so I've built up a lot of friends," Woodward said. "It's fun to see my friends. When you're my age, you don't have as much opportunity to see your friends."
He got off both of his first-day runs early Friday morning, and in doing so, he achieved his goal, he said.
"I just want to stay up and make a clean run," he said. "I was on the first University of Washington ski team, and there are six or seven of them still out and going. Skiing often sure doesn't hurt."