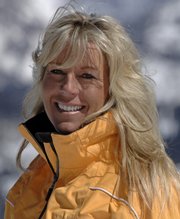 On the Market
Tom Ross' On the Market column appears Sundays in the Real Estate section of the Steamboat Pilot & Today. Contact him at 871-4205 or e-mail
tross@SteamboatToday.com
.
Coldwell Banker Silver Oak, Ltd. in Steamboat Springs announced recently that Michelle Avery ranked among the Western regional top 10 sales associates for adjusted gross commission income for 2007.
Avery has been Coldwell Banker Silver Oak's top producer every year since 1994. She is a graduate of the Real Estate Institute and a Certified Residential Specialist.
Banking on boulders at First National Bank
The elaborate boulder terraces being built on a hillside just south of U.S. Highway 40 are meant to allow construction of an additional 16 parking spaces at First National Bank of Steamboat Springs.
Bank President John Kerst said because the project requires moving underground utilities, it may not be complete until June or July.
"We are expanding the parking lot because of the growth of the bank and our tenants on the second floor, Weiss & Van Scoyk law office, Eric Smith and Associates and Snow Country Construction," Kerst said.
Edgemont to throw on-site preview party
To kick off its pre-sales efforts, Edgemont is hosting an on-site preview party from noon to 3 p.m. Friday. Edgemont is Steamboat's newest slopeside condominium project.
"We are very pleased with the response we have had from Steamboat loyalists since we opened our real estate preview center a month ago," said Mark Murrell, director of sales at Edgemont. "Before the end of the best ski season in years, we wanted to be sure our customers had the opportunity to experience the Edgemont lifestyle - direct access to the slopes and an afternoon of fun for the whole family."
Forty-two one- to five- bedroom residences will be released for sale this spring through an exclusive priority reservation program. Reservation holders will have the opportunity to select a residence at a sales selection event in early summer. Prices range from $800,000 to more than $2.5 million for the Ridge Collection. Construction will begin in late May, with completion of the first homes anticipated during the 2009-10 ski season.
Edgemont is being developed by The Atira Group, a Steamboat-based community developer. S&P Destination Properties is the exclusive listing broker for Edgemont.
For more information visit www.edgemontliving.com or call (877) 871-4665.
How many Realtors?
The Rocky Mountain Resort Alliance reports that Park City, Utah, has more Realtors than any other ski town in the four-state region that includes Colorado, Wyoming, Idaho and Utah.
Park City had 1,184 real estate agents at the end of 2007 and 2,902 active listings. That's one agent for every 2.45 listings.
Steamboat had 425 agents and 1,244 listings, or one agent for every 2.9 listings.
Things are tighter in Aspen, where there were 711 agents in pursuit of 1,041 listings. Of course, with an average home price of $4.147 million, Realtors in Aspen only need to knock down one or two sales a year to survive.