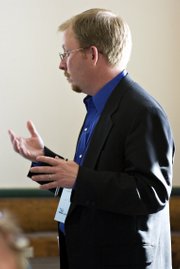 Steamboat Springs — Todd Hagenbuch, a fourth-generation Routt County rancher and executive director of Historic Routt County, is running as a Democrat for state House District 57, the seat to be vacated by Rep. Al White, R-Hayden, who will seek a District 8 state Senate seat.
Hagenbuch has the support of the Routt County Democratic Party, whose members gathered Saturday at its county convention and assembly to appoint delegates for the party's state convention, discuss issues of political interest and hear from local and regional candidates for the 2008 election.
Hagenbuch, a Phippsburg resident, will challenge Republicans Randy Baumgardner of Hot Sulphur Springs and Dan Korkowski of Grand Lake for the House seat, which represents Routt, Moffat, Grand, Garfield, Jackson and Rio Blanco counties. Hagenbuch, 31, got his start in politics nearly 20 years ago, addressing legislators and state officials as part of the movement opposing a ski area at Lake Catamount, he said Saturday.
Two incumbent Routt County commissioners are running unopposed for another term. Republican Nancy Stahoviak is running for re-election in the District 1 seat, and Democrat Doug Monger is seeking another term in District 2.
The county Democrats failed to nominate any candidates Saturday for the District 1 Routt County Commissioner race. The Routt County Republican Party did not nominate anyone for District 2 at its March 8 county convention and assembly.
Former Steamboat Springs city councilman Ken Brenner, who is challenging White for Senate District 8, also addressed the county Democrats on Saturday, calling for the protection of water rights in Northwest Colorado in light of proposed trans-basin diversion projects on the Yampa River.
"Our water doesn't belong on lawns and golf courses on the Front Range," Brenner said.
White and Brenner are seeking to replace term-limited Sen. Jack Taylor, R-Steamboat Springs. Taylor spoke in support of White at the Republican assembly earlier this month.
The Democrats in attendance also voted to give all 29 of their delegates in the U.S. Senate race to Rep. Mark Udall, D-Colo. Although challenger Mark Benner did have supporters in attendance, they did not reach the 15 percent threshold required for delegate assignment.
The Routt County Democrats are actively seeking a candidate to challenge Grand County prosecutor Elizabeth Oldham in the District Attorney race in the 14th Judicial District. The assembly selected uncommitted delegates to represent a future candidate.
The party likely will have a district attorney candidate very soon, Routt County Democratic Party Acting Chairwoman Catherine Carson said.
"We have not had any candidates step forward yet, but there are some very qualified attorneys out there who are doing some research," Carson said.
Hagenbuch will formally announce his candidacy at 12:15 Tuesday on the steps of the Routt County Courthouse.