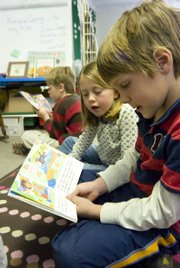 On the 'Net
Download DIBELS materials for free, and learn about the testing system, on the Web at: http://dibels.uor.... Information from the Dynamic Measuring Group can be found at: http://dibels.org...
CSAPs start this week
Colorado Standardized Assessment Program tests start this week and continue into April. Given to students in third through 10th grades, the tests are the basis for annual School Accountability Reports issued by the Colorado Department of Education.
School administrators ask that parents notify their child's school if the child is going to be absent for a reason other than illness, to make arrangements for alternate testing dates.
Parents also are encouraged to make sure children get a good night's rest before test days and eat a healthy breakfast before school.
"We ask parents to be positive," Soda Creek Principal Judy Harris said. "This is something that is an opportunity for each child to show us what they know and to give us good information about their learning."
Steamboat Springs — Eric Casey, 7, spent part of Thursday morning diving into colorful books such as "The Messy Monster," "Arthur's Underwear" and "The Penguin Finds a Hot Dog."
A first-grader in Janel Florquist's class at Soda Creek Elementary School, Eric listened to a story on headphones while other young students played vocabulary games on computers, read at tables or listened to Florquist read out loud.
"We switch," explained classmate Miri Frasier, also 7. "Seat work, computers, listening, Ms. Florquist."
The multi-faceted lesson is indicative of how Steamboat Springs teachers and school officials assess the literacy of young children. The development of skills including fluency, vocabulary, comprehension and phonemic awareness, or the ability to hear and use specific sounds in spoken words, is a delicate process that can be different for each child. Tracking literacy growth in young children has often involved different methods at different schools or times.
Soda Creek Principal Judy Harris told the Steamboat Springs School Board last week that the format of reading assessments for young children has changed in recent years as proficiency standards increased.
"We have good data, it's just not comparable data," she said.
That is changing this year.
The Steamboat Springs School District has implemented a state-mandated reading assessment called Dynamic Indicators of Basic Early Literacy Skills, which local educators hope will provide consistent data that can be compared between not only schools, but school districts, giving teachers shareable knowledge about how to best develop each child's literacy.
Celia Dunham, an instructional support specialist at Strawberry Park Elementary School, said students in kindergarten through fifth grade took DIBELS assessments in September and January, and will have a third in May. In the 2008-09 school year, DIBELS results will be compared with results from this year, building a deeper database with each assessment.
"I think this is a really good thing," Harris said of DIBELS. "I think it should have been done years ago."
Constant check-ups
Dunham said children who struggle with literacy skills are given one-minute "probes" on an as-needed basis, in addition to the thrice-yearly "benchmark" tests.
"With any test, one test does not make a child," said Strawberry Park Principal Brenda Barr. "They are developing and growing - it helps us have a tracking system."
DIBELS tests and probes are administered orally, as a one-on-one dialogue with an educator and a student. The dialogues can range from reading out loud to the use of "nonsense words" that test a child's understanding of word segments.
Michele Miller, an instructional support specialist at Soda Creek, said there are unique challenges to giving a reading assessment to children as young as 5.
"I had a kindergartener who brought her stuffed animal with her and wanted (it) to read," Miller said with a smile. "It's a kid-by-kid thing."
Miller said for third- through fifth-grade students, DIBELS results can be compared with scores on annual Colorado Student Assessment Program tests, which begin this week and are the basis for School Accountability Reports issued by the Colorado Department of Education.
Dunham said how much standardized testing students should be given is a debated topic.
"We believe assessment is a good thing," she said. "The balance we're looking for is how much and to what purpose. : What can we do to least interrupt their process of becoming literate and still monitor?"
Dunham said she hopes DIBELS will stabilize the reading assessment process.
"We're kind of in that fuzzy area right now - we don't know what the best measurement is," Dunham said. "I would like to see something that we stick with over time."
Standardized testing is under discussion at the state Capitol in Denver, where a group of legislators is supporting an overhaul of CSAP.
The revised testing system, supporters say, would increase CSAP's relevance to high school courses and college-entrance requirements and could even provide college credits to high-scoring students.
Miller said regardless of its form, standardized testing is a valuable and necessary tool for monitoring educational progress.
"What's not going to change is the accountability," Miller said. "And it shouldn't change. We need to know."