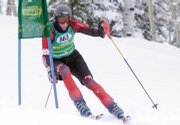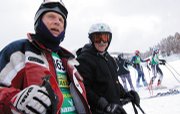 Steamboat Springs — Jerry Taylor said he'd be happy to chat while skiing toward a chair lift Friday morning - as long as you can keep up with him.
"I'm going to go fast through this part," the 72-year old Taylor called back over his shoulder. He pulled his goggles to his eyes as his knees broke into a racer's tuck, dug his poles into the ground and zipped away.
Seconds later, after navigating his way to the base of the Steamboat Ski Area, zigging and zagging through skiers new and old, he popped up out of his tuck, slid the goggles on top of his helmet and waited.
The Christie III lift is a much better place for a conversation anyway, and what kind of racer would Taylor be if he poked along through one more opportunity to refine his form?
Welcome to the NASTAR ski races, running all weekend at the ski area.
Welcome to Jerry Taylor's Olympics.
Taylor, a part-time Steamboat resident, is racing in the NASTAR National Championships for the 11th time. Much to his chagrin - at least playfully - so are his archrivals, Fred Fushimi from Ohio and Bernhard Palm, who qualified for this weekend's races through Cascade Mountain ski resort in Wisconsin.
"I've been skiing against a couple of those guys at least five years now," Taylor said. "It's a lot more competitive now. There are a lot better skiers in all categories."
There used to be something big at stake, Taylor said. His first trip in 1975 to the NASTAR nationals was free - his prize for qualifying. That's no longer the case, although with the serious approach of many of the skiers, one gets the impression there's big bucks on the line.
Friday - the day the ski area came within two inches of its all-time snowfall record - marked the 100th day of skiing for Taylor. He said he's enjoyed all the powder, although it often worked against his overall goal.
Taylor wants to go fast, and no season-long compilation of numbers was going to alter his focus Friday.
"I just like to race," Taylor said. "I need to tighten it up and go faster."
Rob Zehner wants to go fast, too, and he did, blasting down the See Me run and across the finish line with one of the top times of the day in his age group.
It was nothing new for the Steamboat Springs High School graduate, now 25 years old and a graduate student at the University of Colorado.
Zehner said NASTAR has become a family affair, thanks to his parents. He participated as a child, then spent his adolescent years racing for the Steamboat Springs Winter Sports Club, and later still with the club ski team at CU.
He's been on the shelf for the past few ski seasons after sustaining a crushing anterior cruciate ligament injury, but said he's back at 100 percent and has been going hard whenever he's been able to slip away from school to visit his parents in Steamboat.
"I've maybe lost a little bit, but it's mental," Zehner said of returning from his injury. "It's still there physically. It comes back fast. I've been hitting it hard and I feel good."
Zehner raced in the 21- to 29-year-old platinum male division. His mom, Patti Zehner, competed in the female 60- to 64-year-old platinum division.
"I have fun with the competition, but it's more important to have fun with the family," Rob Zehner said. "It's great to have it all here at Steamboat. It's great for the resort, and the athletes really enjoy it, too."