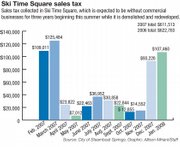 Sales tax collections
• 2007
Ski Time Square: $611,513
Total: $18,600,000
Percent of total: 3.3 percent
• 2006
Ski Time Square: $622,783
Total: $17,748,661
Percent of total: 3.5 percent
Source: City of Steamboat Springs
Where it comes from
City's combined revenues, in percents:
Sales tax: 44
Charges for services: 19
Intergovernmental revenues: 12
Use tax: 6
Other revenues: 5
Operating transfers: 3
Excise tax: 3
Franchise fees: 3
Accommodation tax: 2
Fines and forfeits: 1
Source: City of Steamboat Springs, 2008 Adopted Budget
Sales tax collections up
January sales tax collections for downtown Steamboat Springs leaped 18.26 percent from the same month last year, city figures show.
Sales Tax Auditor Lisa Erbes said the increase could be related to construction projects around the mountain, which could be pushing people toward downtown. Sales tax collections in the mountain area were up only 1.57 percent.
"I was comparing the January 2007 report to this year's and was kind of seeing a little bit of a flip-flop," she said. "Last year, comparing 2006 to 2007, the mountain was significantly higher."
Erbes also said Mainstreet Steamboat Springs has done a good job of promoting downtown. The group, led by Manager Tracy Barnett, works to preserve, promote and enhance the downtown area.
"Hopefully, it's the Mainstreet program," Barnett said, referring to the cause of the boost in collections. "Hopefully, it's what we're doing to make people come downtown. Not everybody skis, of course, so there are people out walking the streets."
Barnett also said some downtown stores are staying open later, giving folks more time to shop after they hit the slopes.
Steamboat's total sales tax collections for January were up 5.67 percent from the same month last year, figures show. General fund sales tax collections were up 7.39 percent from last year.
Most categories, including miscellaneous retail, lodging and restaurants, saw single-digit increases for January. Sales tax collections from sporting goods decreased 0.43 percent. Erbes said that drop was too small to be significant.
"It seems like it stayed pretty consistent; it seems that's reasonable," she said.
Steamboat sat in the middle of the pack when compared with other Colorado ski towns.
On the high end were Aspen and Winter Park, which saw sales tax collection increases of 13.73 percent and 12.65 percent, respectively, from last January. Breckenridge saw an increase of 1.07 percent, and Vail's sales tax collections rose 3.85 percent from the previous January.
Most ski towns saw increases - collections were down in Gunnison and Crested Butte - which is a sign that the industry is strong, Erbes said. She said figures can depend on which towns got snow and when. People planning January ski vacations often decide where to go based on December snowfall, she said.
Figures also depend on each town's goals, Erbes said.
"I know Winter Park's doing a lot of growth," she said. "For a long time, they've been more of a Denver-type local ski area, and they've been building more accommodations and whatnot to become more of a resort destination for travelers."
- Blythe Terrell
Steamboat Springs — The recession of the national economy and Steamboat Springs' heavy reliance on a somewhat unreliable source of income - sales tax - have many local officials calling for a more conservative fiscal policy for the city.
The city's reserves have received particular attention recently. The city's total reserves are more than $8 million, but that figure includes restricted reserves, or the amount the city is statutorily prohibited from falling below. The rest, known as unrestricted reserves, are estimated at between $3 million and $3.5 million, or about 11 percent to 13 percent of the city's general fund. Assistant Finance Director Bob Litzau said he would prefer to see unrestricted reserves as high as $8 million.
"I would agree : that our unrestricted reserves are too low," City Manager Alan Lanning said Monday. "I always like to see them a little bit higher."
What effect, if any, the state of the reserves could have on the city is yet to be seen.
"It's not a dire situation," Litzau said last week. "We are in no danger of not being able to pay bills or make payrolls."
But that doesn't mean the city won't have to make some tough decisions.
"I think it's really serious," Councilwoman Cari Hermacinski said last week. "You've got to cut spending. That's going to happen."
The progress of public improvement projects at the base of the Steamboat Ski Area may rely heavily on the Steamboat Springs City Council's willingness, or lack thereof, to further reduce the reserves. The improvement projects are paid for by money generated by the city's urban redevelopment authority, which was created in 2005. The authority issues bonds and, within its base area boundaries, receives property and sales taxes over a base amount to repay them.
The city's Urban Redevelopment Area Advisory Committee had planned to ask for a $1 million loan from the city's general fund to keep this year's projects moving forward until the next bond issue.
"With relying substantially on sales tax and with the economy doing what it's doing - which I don't think anyone can figure out - it makes me very uncomfortable to be talking about tying up a third (of the unrestricted reserves) in redevelopment," Litzau said.
This year's projects include a proposed roundabout at Mount Werner Circle and Apres Ski Way and design work for the URA's most anticipated projects: a promenade around the immediate ski base and the daylighting of Burgess Creek. Hermacinski acknowledged the base area projects are threatened, but said she would prefer to make cuts elsewhere before putting the brakes on the base area's facelift.
"That seems like a pretty high priority to keep going," she said.
Redevelopment Coordinator Joe Kracum said URAAC is working on a plan that would reduce the amount of money it will request from City Council. Kracum had planned to make the request at Tuesday night's council meeting, but has decided to wait until April 8. Construction was originally scheduled to start April 7 but has been pushed back three weeks. Kracum said that means work will continue until mid-September.
"We're looking at a little different strategy," Kracum said. "We want to see how the whole financial situation is looking."
The money being requested for the URA would be an unbudgeted expense, if granted. As for the city's budgeted expenses, Litzau said the city won't have to make cuts unless sales tax revenue fails to grow as much as expected. The 2008 budget is built on an expected 4 percent increase.
Recently released sales tax figures for January showed an increase of 5.67 percent, but some believe sales tax revenues could take a hit in coming months. Developers plan to demolish the entirety of Ski Time Square and Thunderhead Lodge this summer to make way for redevelopment.
The city had hoped for a phased approach to the demolition rather than one that will result in a complete loss of Ski Time Square's commercial component for about three years. In 2007, the city collected $611,513, or 3.3 percent of its total sales tax revenue, from Ski Time Square businesses. In 2006, the city collected $622,783, or 3.5 percent of its total sales tax revenue.
"For them all to go away at once will have an impact," Deputy City Manager Wendy DuBord said last week. "The economic indicators, at least in the near term, suggest that we should be conservative with our reserves."