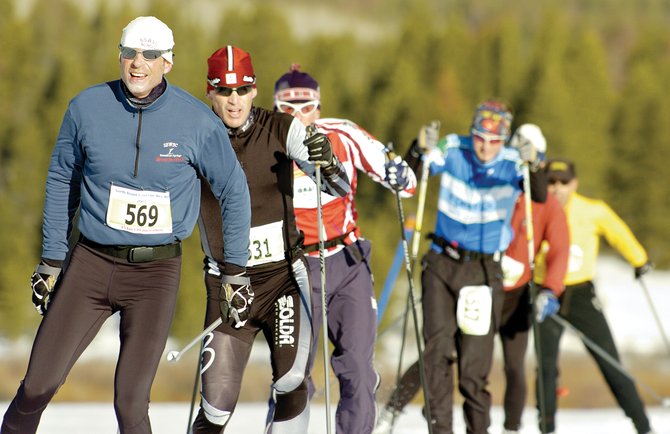 North Routt Coureur des Bois race growing
On the 'Net
For more information and registration details about the North Routt Coureur des Bois, visit www.steamboatxcsk...>
Steamboat Springs — Daniel Smilkstein said he's seen the North Routt Coureur des Bois take significant steps in its three full years of existence, as the massive cross-country ski event continues growing into one of the area's signature races.
Smilkstein said he's expecting 150 racers for this year's race, which begins at 8 a.m. Saturday. It's the same number the event had last year, but he pointed to a surge in out-of-state participants as evidence that the race is stronger than ever.
"We started with about 60 percent of the field being locals," Smilkstein said. "We had four from out of state that year. Now 60 percent of competitors are from outside the area, and 20 percent are from out of state."
Organizers are expecting racers from across the country. Representatives from 13 states already have registered, and those interested can continue to do so through Thursday.
Smilkstein said he expects the competition to be as diverse as the field.
On the upper end, there already are six past champions from the 45- and 90-kilometer events, plus the record holders in both distances.
"It's a very unique race - I think the hardest 45K in North America and the hardest 90K when you consider the altitude and the climbing," he said.
There also will be plenty of participants more focused on finishing the massive course than setting any record. The longer trail starts near Steamboat Lake and Hahn's Peak and cuts all the way to the Wyoming border before looping farther east and back toward the start.
The long course will feature nearly 6,500 feet of climbing, more than twice as much as the short course.
The race on the short course begins at the same spot 30 minutes later. It begins to loop back at Little Red Park.
"There will be a group of very serious skiers who will be charging from the start, but the majority of the people are out there to try and cover the distance," Smilkstein said. "Word has gotten out. We really haven't done a lot of advertising but have had good word of mouth.
"I'm just happy that the quality of the event continues to improve."
- To reach Joel Reichenberger, call 871-4253 or e-mail jreichenberger@steamboatpilot.com
For more information and registration details about the North Routt Coureur des Bois, visit www.steamboatxcski.org.