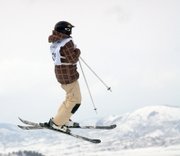 Junior Olympics results
Aerials
Girls
19. Codi Coghlan
Boys
44. Tyler Saxe
66. Stephen Wilson
Steamboat Springs — Steamboat's three entries into Saturday's Junior Olympic freestyle aerials competition all finished far back in the pack, but showed no shortage of spirit and determination.
The boys competition was won by Evan Kreps, with Jillian Kazley taking the girls title.
Codi Coghlan was the best local competitor, finishing 19th in the girls' side. Tyler Saxe was 44th for the boys, ahead of Stephen Wilson in 66th.
There was plenty to be proud of in those performances, team coach Nate Bird said.
"They all trained well, but the competition didn't go quite as well as we planned. They all had one really good jump, and they all had a weak jump and a couple super hard wrecks," Bird said.
Coghlan finished with 57.81 points, well back of the 100.34 required for medaling - Ashley Caldwell and Britany Sigourney joined Kazley on the medal stand in second and third places, respectively. Coghlan bounced back from a
nasty first-jump fall, however, and did it all in her first trip to the Junior Olympics.
"She wrecked herself hard on her first jump, but she got back up there and went big again with another jump," Bird said.
The team's attention now turns to the final day of competition, when the local skiers will have their last chance to earn a medal on their home snow.
Today may be the team's best chance, Bird said.
Ryan Dyer just missed claiming a medal Friday when he finished fourth in the single moguls event. He'll try to make up for the disappointment today in the dual moguls.
Dual moguls events pit competitors against one another on the same course that played host to Friday's competition, Steamboat Ski Area's VooDoo run, with only one skier advancing from each race.
It's a format Bird said fits Dyer's style perfectly.
"He's one of the faster skiers out there," Bird said. "The speed he's comfortable at pushes his competitors past their comfort zones. He'll really beat you that way.
"You're supposed to pay attention to your own run and not worry about your competitor, but when you see a guy get way out ahead of you, you try to go faster to catch up."
Steamboat will field one of its largest contingents of the five-day event, with most of those who skied Friday returning, as well as several others.
"A lot of the people who didn't make finals Friday are hoping to do better," Bird said. "I'm looking forward to it. Duals day is always the most fun. It's head-to-head and super exciting."