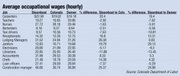 Routt County median income (1 person)
2006 $50,900
2007 51,500
2008 53,000
Median income for Colorado counties (1 person)
Boulder: $60,900
Denver: 50,300
Eagle: 58,700
Hinsdale: 39,600
Kiowa: 37,700
Moffat: 38,700
Pitkin: 68,300
Routt: 53,000
Steamboat Springs — Numbers often dominate discussions about affordable housing in Steamboat Springs.
Developers often are told to target their community housing requirements at people who make a certain percentage of the area median income - equating professions and lives with statistics. But a growing number of people are beginning to ask whether there is enough understanding of what the numbers actually mean and whom affordable housing policies will really serve.
Without that understanding, some believe, the city's policies may not be properly aimed at those members of the community it intends to protect.
Danny Mulcahy's opinion on the subject is clear: "No more decisions without information." Mulcahy, principal and project manager for the planned Steamboat 700 development,
feels strongly enough about the need for information that he has pledged $50,000 - of the $150,000 needed - for an in-depth microanalysis of housing needs in Steamboat.
"We've been making decisions without any data for a long time," Mulcahy said. "We just want real information."
The city plans to contribute another $50,000 for the study. The remainder would be provided by other developers and through the fundraising efforts of the Yampa Valley Housing Authority.
"I don't think we have a total understanding," said Donna Howell, executive director of the Housing Authority. "If we don't have accurate information that is very specific to Steamboat, I think we're doing a disservice to the community."
While some information already exists - such as the AMI figures published annually by the Department of Housing and Urban Development and local assessments of housing needs - officials say nothing provides the type of specific, in-depth look at Steamboat's housing needs that the proposed analysis would.
"The housing needs assessment that has been completed is more of a macro study," Howell said. The new, proposed study "will give us an opportunity to get more specific data that will help in terms of what the product is. It gives us more information on a location-specific basis."
Nancy Engelken, the city's community housing coordinator, said that in addition to income information, there needs to be a better understanding of what people can afford, what they need and what they desire.
"We don't know what that breakdown is in terms of what do households look like here," Engelken said.
AMI is calculated according to household size. Although a family often is implied when defining a household, the definition of a household simply is any collection of individuals living together. As a result, a household of three could mean anything from a single mother with two children to three adults with full-time jobs.
These arrangements could have greatly divergent housing desires. Engelken said the market analysis would help people meet those desires.
"It will give a lot of direction to the city as well as the development community," she said.
Whom to help
Mulcahy's community housing plan for Steamboat 700, the planned development west of Steamboat that proposes about 2,000 new homes, has put him at odds with city staff.
The West of Steamboat Springs Area Plan, which provides community development guidelines for land including the Steamboat 700 parcel, requires developers to provide 20 percent of their homes as affordable housing to people who make an average of 80 percent of AMI. Mulcahy proposes to target an average of 120 percent of AMI.
Mulcahy said his target is based on conversations he has had with members of the community that suggest the workforce Steamboat officials are interested in retaining earns more than 80 percent of AMI. He also says his plan will provide a larger percentage of ownership units rather than rental ones.
Mulcahy said he "strongly believes" in a range of housing options. The city has been unwilling to waver from its adopted requirements, but that could change depending on the results of the demand analysis.
"If the study shows that the city isn't addressing it appropriately, the city should change its stance," Mulcahy said.
Howell agreed.
"I think the most critical part of it is that we use the information that we gather," she said.
Noreen Moore, business resource director for the Routt County Economic Development Cooperative, said she is excited to see the study's results.
"I think we have a lot of emotion and a lot of anecdotal information right now," Moore said. "Basing public policy on that is dangerous. Good, hard data will really help us focus."
Moore has advocated an approach to affordable housing that focuses more on young professionals who probably make more than 120 percent of AMI but still struggle to make ends meet in Steamboat. Moore said she isn't suggesting the lowest wage earners be ignored, but she argues that companies very important to Steamboat's economy are threatened by struggles to recruit and retain employees in the face of a rapidly escalating cost of living.
"It should give the community a better way to deal with the problem," Mulcahy said of the study. "Hopefully it gets to a point where everybody is hitting different segments of the market at the same time."