Photo Gallery
Penguin Plunge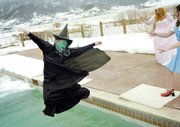 If you go
What: Fifth annual Penguin Plunge, a benefit for Yampa Valley Medical Center
When: Saturday, March 29; registration deadline is Friday, March 21; sponsor registration deadline is Monday, March 17
Where: Lake Catamount Ranch and Club
Cost: Participants must collect at least $100 to jump into the pool; spectators get in free
Call: 871-2501
Steamboat Springs — Jim McCreight, event co-chairman for the fifth annual Penguin Plunge, looks at the chilly swim as a rite of passage into spring.
"It's starting to warm up finally, and people are kind of getting tired of skiing. It's a chance for people to get together and do something crazy - which is jumping in cold water. That is crazy, I'll admit that," said McCreight, who has dressed up as Elvis for a previous plunge.
Put on by the Healthcare Foundation for the Yampa Valley as a benefit for emergency and intensive care patients at Yampa Valley Medical Center, the event has played host to groups of participants dressed as penguins, oil-dippers and characters from "The Wizard of Oz."
It's raised as much as $50,000 a year from participants who shake off fears and jump into a pool of 34-degree water at Lake Catamount Ranch and Club.
The plunge got its start when an emergency room worker suggested a need for a human patient simulator to help with training. It was an expensive purchase, and the Healthcare Foundation decided to create a fundraiser to finance it.
Why that event ended up involving cutting through ice with industrial chainsaws to get at a near-freezing swimming pool, no one remembers.
"We were talking about what could you do in the winter that would be unique and really attract people's attention," said Bonnie Bunker, associate director of development for the Healthcare Foundation.
"It takes weeks to make this happen - the ice is very, very thick. Sometimes we have to call in loggers with the big chainsaws. Sometimes the Sears-size chainsaws don't work," she said.
Vital need
Proceeds from this year's plunge will go toward purchasing bedside intensive vital sign monitoring equipment - a computer system that would allow emergency room workers to access and enter critical information. The equipment keeps track of vital signs such as heart rate, blood pressure and oxygen levels, then stores the data to establish trends in recurring patients.
"It will be very helpful for physicians knowing that information is there at the time," said Karl Gills, YVMC chief executive officer.
The price tag for the equipment is $167,000. Organizers said they would love to raise that amount at Penguin Plunge and encourage donations outside the event.
Since the event's first year, the Healthcare Foundation has focused Penguin Plunge fundraising on emergency care. Organizers said there's never a shortage of need and that emergency care has the most immediate impact on the most people.
"The hospital is the one institution in this community that has the potential to affect every member of this community and everyone that comes into this community," said Diane Tarnoff, Healthcare Foundation board chairwoman.
Tarnoff said YVMC is a nonprofit hospital, and pays for everything with hospital fees and philanthropy. The Healthcare Foundation works to boost the fundraising side of that equation.
"We're really putting a major push starting this year on more community exposure and more individual fundraising," Tarnoff said. "I think a lot of us can take for granted the sophistication and quality of health care we have in this small town."
McCreight said Penguin Plunge is a "win-win" for everyone involved, by providing a festive atmosphere and funding an institution everyone in the community has a use for.
"The reality is that we have a great hospital, and that's why this Penguin Plunge is so cool. It gives the community the chance to raise the money and give back," he said.
"I think it's pretty cool, actually. Literally."