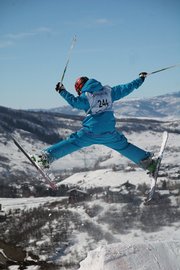 If there's anything sacred in Ski Town USA, it's the all-time record for the most snowfall in one season.
Endless powder days stretched across epic winters are the reason we all get up and do ab curls in the morning and pray to the snow gods before extinguishing our lava lamps at bedtime. And that's why I almost had a conniption upon returning home from Phoenix last Friday and reading on its Web site that the Steamboat Ski Area was reporting that it was closing in on the all-time record of 460.25 inches established during the winter of 1995-96.
RIGHT IDEA! WRONG NUMBER! WRONG SEASON! SAY IT AIN'T SO!
For more than a decade now, this newspaper has been consistently reporting that the all-time record was set during the winter of 1996-97, when 447.75 inches of snow were recorded at mid-mountain. And so has the ski area. The final tally in April 1997, when 55.5 inches of spring snow fell, topped the old record set during the winter of 1983-84 by a mere quarter-inch.
After nearly a week of head scratching, we have now received assurances from Ski Corp. that the long-standing record of 1996-97 remains intact. Last week's erroneous report was just that.
"It was an addition error on my own part," Ski Corp. Public Relations Director Mike Lane said. "If anyone is to blame, it's me."
Ouch, Mike! We didn't mean for you to fall on your own ski pole! Dude, it could happen to anyone.
So, here's the straight poop. As of Friday, with 30 days remaining in the season (closing day is April 6), the current season snow total is 436.5 inches. Ten inches fell overnight Thursday at mid-mountain. Steamboat needs just 11.25 inches to tie the record (note to copy editors: be sure you check my math, otherwise, it's all your fault.)
Before I go much further, I should fess up and point out that the newspaper doesn't do any of the hard work associated with keeping the sacred snow logs.
The ski area hires people who are willing to rise before dawn and measure snow stakes. They wear white camouflaged ski jackets and night vision goggles so that snow spies cannot detect their movements. OK, OK, I made that part up.
The snow stakes are set in the ground in top-secret locations at mid-mountain and the summit of Storm Peak. The snow stakes are situated so that they are protected from wind in order to give the most accurate readings possible.
The daily readings are reported to the desk of "Switchboard" Kent Kirkpatrick. I'd like to tell you he keeps them in a clean Hellmann's mayonnaise jar, but in fact, he faithfully stores them in a three-ring binder.
Lane said last week's error in arithmetic dates to the mid-1990s, when he began recording snow totals of his own on a spreadsheet in his computer. He relied on his spreadsheet last week when updating this winter's record snow pace.
Lane and I are both self-professed snow nerds, and we agreed today that no two record snow seasons are quite alike.
Allow me to explain.
In modern times, the ski area has begun counting season snowfall as soon as it begins accumulating, often in October and most years in early in November. However, back in the Pleistocene era, before 1994, November snowfall measurements were taken, but didn't count to the season total until opening day. When the ski area adopted computer record keeping at the end of the '80s, all of the old paper records were recycled.
The official Ski Corp. records showed that in November 1995, 14 inches of snow fell on Nov. 15 followed by 9 inches on Nov. 16 and 8 inches on Nov. 17.
The ski area went on to a spectacular season that winter, counting 441.25 inches of snow, third-best all time. The winter of 1996 had an advantage against this winter, too. The season opened on Thanksgiving and didn't end until April 13.
Incredibly, this ski season was delayed for 10 days BY A LACK OF SNOW! So how did this season drive to within a foot of the record with nearly a month left in the season?
One word: consistency, Lane said.
"We had 26 days of measurable snow in January and it snowed 20 of 29 days in February," he said. "We had a streak, from Jan. 16 through Feb. 10, when there were 26 days of consecutive snowfall."
In the end, all of the numbers don't matter as much as the powder memories we all socked away this winter.
I predict that someday, we'll all be able to say we skied Steamboat during the record winter of 2007-08.
Or was that 2006-07?
- To reach Tom Ross, call 871-4205
or e-mail tross@steamboatpilot.com